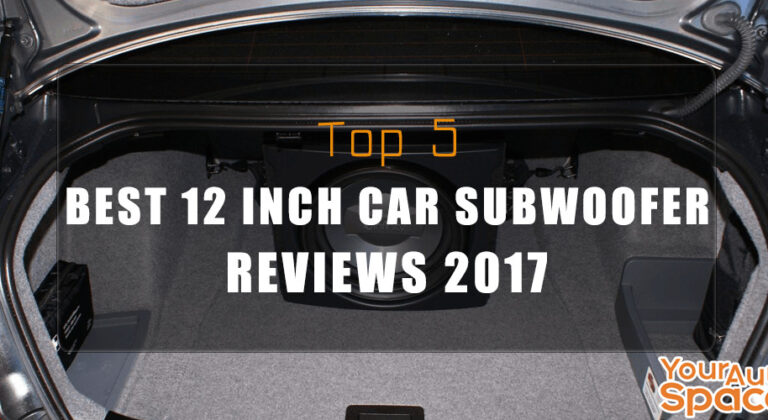 Sometimes, you do not just want to hear your favorite songs while driving on the road, you also want to feel them too. With a 12-inch subwoofer, it is much easier now than ever before to bring out that deep and rich bass that you could feel in your soul. In other words, you can take the listening experience to the whole new lever with just a high-quality subwoofer.
As there are too many different models out there in the market and every of them always claim that they the best product, we are going to show you top 5 subwoofers, based on our hands-on experience, and talk about which features make these units stand out from the rest. Also, we will highlight the pros and cons that you should consider so that you can choose a subwoofer that is suitable for the audio system in your car.
Top 5 Best 1
2
Inch Car Subwoofer Recommendations 
| Image | Name product | My Rating | Price |
| --- | --- | --- | --- |
| | Kenwood KFC-W3016PS 12-Inch 2000W Subwoofer | 4.9 / 5.0 | $$ |
| | Pioneer TSW311D4 Champion Series 12″ Subwoofer with Dual 4-Ohm Voice Coils | 4.8 / 5.0 | $$ |
| | Planet Audio AC12D ANARCHY12 inch DUAL Voice Coil (4 Ohm) 1800-watt Subwoofer | 4.8 / 5.0 | $ |
| | Power Acoustik MOFO-124X MOFO 12-Inch Dual 4-Ohm VC 2700 Watt Pro Subwoofer | 4.7 / 5.0 | $$$ |
| | Rockford Fosgate P2D4-12 Punch P2 DVC 4 Ohm 12-Inch 400 Watts RMS 800 Watts Peak Subwoofer | 4.7 / 5.0 | $$ |
---
Kenwood has put decades of experience in developing the Performance Series subwoofer, so you can have reliable, powerful bass in your car.
The

KFC-W3016PS

features the peak power capability of 2000 Watts and RMS ranking of 400 Watts so that it can produce high-quality and rich sound without distortion. Also, this unit can last for a long time thanks to a heavy-duty polypropylene cone, and a durable rubber surround.
When it comes to the installation, this product is designed with a compact and lightweight form so that it can fit in any car models. In addition, the manufacturer also offers a wide range of color options to meet your personal preference.
Pros
Reliable and powerful bass.
High-quality and rich sound.
Various colors.
Easy to install.
Good value.
No distortion.
Cons
Poor sound if wrong enclosure.
The Pioneer

TSW311D4

is a good subwoofer that you should choose to improve the musical experience in your car.
With a new reinforced cone structure, this product is able to deliver powerful, yet accurate bass quality. Along with a rigid and lightweight dust cap as well as drive cone, you can use this subwoofer under high levels of pressure without failure.
The manufacturer has utilized a fully-enclosed, single piece, and highly rigid basket to help minimize the vibrations as well as increase the driving force to the cone. As a result, this subwoofer would produce rhythmical and louder bass.
Pros
Lightweight form.
Excellent sound quality.
No vibration.
Very durable.
Sturdy and rigid structure.
Cons
Along with its 8 and 10-inch counterparts, the Planet

AC12D

Anarchy is designed to please the music lovers with powerful and clean bass quality. This subwoofer features a dual voice aluminum coil with 4 Ohms so that the users can get more power and less resistance for the amps. But of course, that will depend on the way you wire it. In addition, one of the best features of the AC12D Anarchy is the ability to work well with sealed or ported enclosures so that you can enjoy the superior bass and sound quality, while still maintaining the volume.
As the unit is accompanied with two sets of input terminal, you can wire it to your amp in 3 different ways, including series, parallel, and independent. This gives a car driver more control over the impedance.
With the Planet AC12D Anarchy subwoofer, you do not need to purchase an additional pair of speakers to replace as it is able to work really with the factory-installed audio system in your car.
Pros
Wide range of frequency.
Different wiring options.
Good-quality sound.
Inexpensive.
Cons
The Power Acoustik

MOFO-124X

features a superb look and great specs with a very affordable price. And that is probably the reason why it has gradually increased in popularity amongst car drivers.
With the peak power of 2700 watts, this product is able to handle the power very well, which makes it a competitive and powerful subwoofer with an advanced heat sink technology to produce crisp and fresh music.
You can find this subwoofer very flexible, but also durable thanks to a cloth paper composite. In addition, it can be placed in either a ported or sealed box so that installing will not take so much amount of time.
Make sure to prepare an amplifier that could handle more wattage than the recommendation of the manufacturer to make this power work properly for your car. This will also keep a high sound during the time and prevent your subwoofer or amplifier from overworking, which eventually results in a burnout of the electrical system.
Pros
Affordable price.
Super loud sound.
Dual voice coils.
Impressive design.
Solid form.
Cons
Bad performance on seal enclosures.
Rockford Fosgate is probably one of the most well-known brands in the market these days when it comes to car subwoofer. And the 12-inche

P2D4

model is an incredible combination of good price and perfect music quality.
It is able to handle the RMS power of 400 watts and the peak power of 800 watts so that you can get a deep and nice base without powering the audio system so much. Also, the face of this subwoofer is reinforced with a Kevlar paper cone that would help to produce great sound quality and extend the durability. For a long session of hitting hard bass, the rubber surround has been built in to deal with high excursion moves during the day. In other words, with advanced technology, the Rockford Fosgate P2D4 is a perfect match for bass quality without damaging the bank.
Therefore, The Rockford Fosgate P2D4 is a good option if you do not want to spend a lot of money but still need a good subwoofer to improve the overall quality of your car's audio system.
Pros
Inexpensive.
Deep bass.
Durable paper cone.
Great sound quality.
Cons
Quite low frequency response.
Low sensitivity rating.