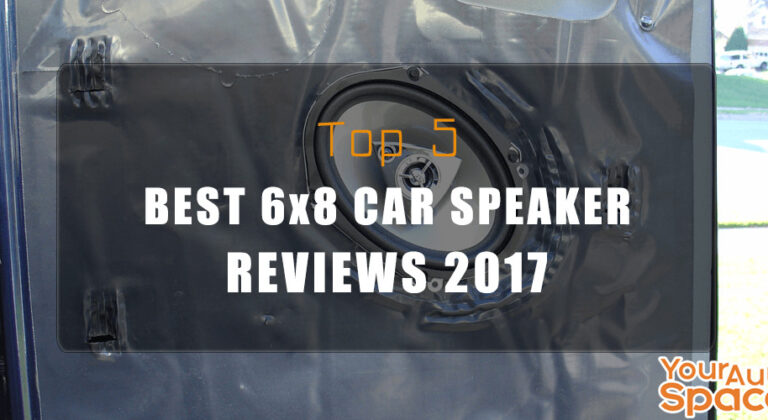 One of the most enjoyable moments that a car driver may experience on the road is listening to his favorite album with the speakers at full blast. However, while a vehicle does come with several stock speakers, it is always a good idea to buy a high-quality replacement to meet your specific requirements.
These days, there are a wide variety of car speaker models available in the market, with different designs, sizes, technology and, prices. Among these, 6×8-inch units are probably one of the most common on to many drivers. To help you decide the best 6×8 speakers for your car, we have made a list of top 5 models that would make your driving experience more incredible.​
[tcb-script type="text/javascript"]amzn_assoc_placement = "adunit0";amzn_assoc_search_bar = "true";amzn_assoc_tracking_id = "impdrigui-20";amzn_assoc_search_bar_position = "bottom";amzn_assoc_ad_mode = "search";amzn_assoc_ad_type = "smart";amzn_assoc_marketplace = "amazon";amzn_assoc_region = "US";amzn_assoc_title = "Shop Related Products";amzn_assoc_default_search_phrase = "6×8 speakers";amzn_assoc_default_category = "All";amzn_assoc_linkid = "0c673153120f38664a62af29c0c2a34a";[/tcb-script][tcb-script src="//z-na.amazon-adsystem.com/widgets/onejs?MarketPlace=US"][/tcb-script]
Top 5 Best
6×8 Car Speaker
Recommendations 2018
| Image | Name Product | My Rating | Price |
| --- | --- | --- | --- |
| | Rockford Fosgate Punch P1683 6 x 8-Inches Full Range 3-Way Speakers | 4.9 / 5.0 | $$ |
| | Pioneer TS-A6886R 6″ x 8″ 4-Way Speaker, Set of 1 | 4.8 / 5.0 | $$ |
| | Pioneer TSG6845R 6 x 8 Inches 2-Way 250W Car Speakers | 4.8 / 5.0 | $ |
| | Rockford R168X2 Prime 6 x 8 Inches Full Range Coaxial Speaker, Set of 2 | 4.7 / 5.0 | $$ |
| | Pyle PL683BL 6 x 8-Inch 360-Watt 3-Way Speakers | 4.6 / 5.0 | $$ |
Note: $ ($0 – $30), $$ ($30 – $60), $$$ ($60 – $100)
Top 5 Best
6×8 Car Speaker
Reviews 2018
For many car drivers, Rockford Fosgate is probably one of the most famous brands in this industry, which is well-known for its high-quality products and reasonable prices.
The

Punch P1683

model is designed with responsive butyl rubber surround and polypropylene cones that makes it capable of working in hours with high-volume jams. Another impressive feature is that it can deal with a large amount of power continuously (65W) thanks to its sensitivity rating of 90dB. This helps you get a clear sound that will stand out against other units.
In addition, this product is able to offer a very clear and crisp sound, particularly the high ones. However, a minor downside is its lack of bass. Thus, if you do not listen to heavy rock or similar music and only want clear speakers, then this unit of Rockford Fosgate is definitely a perfect choice for you.

Pros

Best bass quality.
Wide range of frequency.
Rich, crisp, and clear sound.
Easy to install.

Cons

Irritating chemical smell.
Purchase This Product at Amazon.com
This 4-way speaker of Pioneer is considered by many people as the best 6×8 models in the market these days as it provides us with all latest features just in a single package. It is made with a multi-layer of mica matrix cone and has 350W of maximum power, which is allowed for the best responsiveness and sound production. In other words, this results in wider sound dispersion, deeper bass.
The speakers also have a wide range of frequency, meaning that they can reach both very high as well as very low sounds. Its lightweight design makes the installation task easier, and the high-quality materials also make it very durable against frequent usage.
These new technology advancements allows car drivers the ability to play better popular music variety, which is filled with heavy-bass sounds such as alternative rock, hip hop, or dubstep. And with those

TS-A6886R

speakers, deep and clarity bass sounds are always guaranteed. Therefore, this is definitely one of best 6×8 car speakers for your money.

Pros

High frequency range.
Great power.
Loud volume without distortion.
Rich, clear, and clear sound.
Better responsiveness.

Cons

Installation could be confusing.
Bad sound quality if put in wrong place.
Purchase This Product at Amazon.com
If you are looking for a replacement for the bad set of your factory speakers, the Pioneer TSG6845R is an excellent choice.
With the maximum power of 250W, these speakers are able to produce the sound frequencies of up to 29000 Hz. In addition, different tweeters are made with Pioneer custom layout that helps in generating high and mid frequencies.
With a shallow mounting depth (2 to 3 inches), a weight of 2.9 pounds and dimensions of 6×8 inches, these units can be installed easily in custom-fit baskets and several models of cars, especially Mazda and Ford.
If you need to listen to a high-definition song, then you can simply connect various 2-ohm or 4-ohm amplifiers with those speakers. By spending a couple of dollars, you can buy these incredible speakers and replace the factory 6×8 inches speakers in your car.

Pros

Easy installation.
Great performance.
Reduced distortion.
Improved sensitivity.

Cons
Purchase This Product at Amazon.com
Another good product that we want to introduce to you is the Rockford R168X2 Prime, a high-quality unit with a slightly affordable price than expected. It is a perfect combination of beautiful design and modern technology in car audio industry.
This item utilizes a rubber surround and a vacuum polypropylene cone secures the bass frequencies. Many users described is sound as precise and tight. In addition to precision, these parts also make sure that the bass sound is still consistent, organic, raw, and warm.
Therefore, if you want to listen to hard-hitting basses, then this should be taken into your consideration.Last but not least, with a RMS power of 55W, the

R168X2

Prime is able to make great sound transmission and keep the clarity under humid or rainy conditions.

Pros

Good overall sound quality.
Affordable price.
Perfect bass sound.
Great sound transmission.
Smooth vibration.

Cons

Low handling power.
Buzzing sounds.
Purchase This Product at Amazon.com
This

PL683BL

model is a perfect replacement for the factory speakers in your car as it does not just sound great – it looks great, too. The manufacturer has made these items with a perfect balance of quality and cost so that most of the car owners can find them affordable.The speaker is designed with Poly poles that are able to generate warm natural sounds with a soft frequency of the tweeter. And another tweeter that is made of Piezo plays an important role in completing the overall sound quality in your car.
The Pyle PL683BL also features 4-ohm impedance, 91-dB sensitivity, 40-oZ magnet motor structure, frequency range from 70Hz to 20 kHz, and the maximum power of 720W.

Pros

Affordable to most car owners.
Decent sound quality.
Tight bass.
Crisp mid and high sound.
Reduced distortion at high volumes.

Cons
Purchase This Product at Amazon.com
Related Articles: