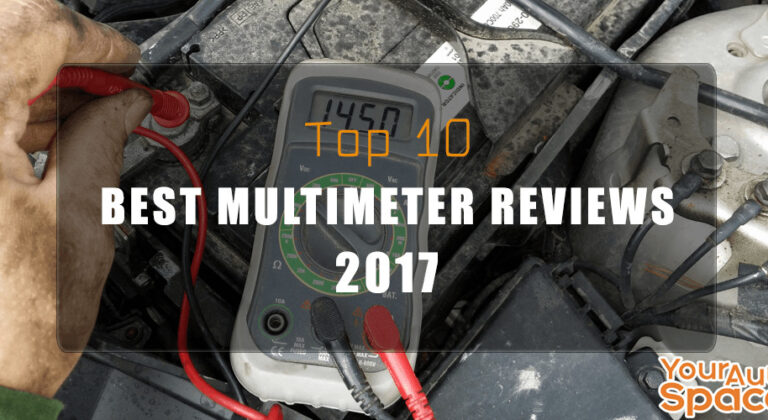 The multimeter is a multifunctional device, but it is often used for checking the voltage of different parts in your car, which can diagnose malfunctioning units and provide very accurate reading. In general, a multimeter is suitable for reading ohms, bolts and amps, so you can use it to read a wide range of electric values.
The main purpose of this tool is to gauge the flow of electrical current in multiple terminals. In addition, it can also be applied for measuring the voltage flowing across various electrical units, depending mostly on the specific feature of a model.
Though it might seem complicated, a multimeter is actually very simple to use and read. In most cases, you will need to connect the negative and positive test wires of this unit to the terminals of an electrical device that you want to measure.
A lot of users find this device confusing since you need to put the dial in suitable setting for each particular application. In this buying guide, we will show you necessary information to choose a suitable multimeter for your personal needs.​
​​Top 10 Best
Multimeter
Recommendations 
| Image | Name Product | My Rating | Price |
| --- | --- | --- | --- |
| | Fluke 115 Compact True-RMS Digital Multimeter | 4.9 / 5.0 | $$ |
| | Mastech MS8268 MS8261 Series Digital AC/DC Auto/Manual Range Digital Multimeter | 4.8 / 5.0 | $ |
| | Fluke 87-V Digital Multimeter | 4.8 / 5.0 | $$$ |
| | Fluke 117 Electricians True RMS Multimeter | 4.8 / 5.0 | $$ |
| | INNOVA 3300 Hands-free Digital Multimeter (10 MegOhm) | 4.7 / 5.0 | $ |
| | Fluke 116 HVAC Multimeter | 4.7 / 5.0 | $$ |
| | INNOVA 3320 Auto-Ranging Digital Multimeter | 4.7 / 5.0 | $ |
| | Etekcity MSR-C600 Digital Clamp Meter , Auto-Ranging Multimeter with Voltage, AC Current, Diode and Resistance Test | 4.6 / 5.0 | $ |
| | Dr.meter MS8268 30-Range Digital Multimeter with Temperature Measurement, Mastech MS8268 | 4.6 / 5.0 | $ |
| | Extech Instruments EX330 Autoranging Mini Multimeter with NCV and Type K Temperature | 4.6 / 5.0 | $ |
---
1. Fluke 115 Compact True-RMS Digital Multimeter
The

Fluke 115

offers users with many features that they will never get from any cheaper unit. It appeals to many people, from service technician, auto electricians to home electrical enthusiast or trainee because it allows them to check a wide range of values such as continuity, frequency, capacitance as well as diodes, which could not be measured by many cheaper multimeter models.
This particular unit applies True-RMS to increase the accuracy of results, especially for measuring non-linear load.
For reading in dark working area such as roof spaces or control panels, this multimeter provides a large LED backlight, which is designed with user-friendly buttons and dial.
Pros
Ergonomic and compact design.
Accurate readings.
Large LCD screen.
Responsive and smooth bar graph display.
Easy access to battery compartment.
One-hand operation.
Cons
Do not provide dedicated micro-amp or milliamp range.
Display resolution is not so good.
Lack of Touch Hold mode.
2. Mastech MS8268 MS8261 Series Digital AC/DC Auto/Manual Range Digital Multimeter
The

MS8268

digital multimeter of Mastech is a good choice if you are looking for a model with reasonable price. Generally, it applies an audible sound to allow you to notice when the banana jacks are not using with the suitable setting.
To offer better flexibility, the manufacturer has designed the unit so that you can choose between auto and manual ranging. If any needs arise, it will allow you to reset a couple ranges. In addition, this device is made with an integrated automatic shutoff feature to help preserve the life of battery. In spite of its low price tag, the Mastech MS8268 multimeter does not feel cheap at all.
With two ergonomic grips, it is much simpler to hold this device so that you can avoid accidental drop.
Pros
Reasonable price.
Great appearance.
Solid feeling in the hand.
Provide LED backlight.
Buttons are easy to use.
Automatic shutoff feature.
Flexibility.
Cons
Some problems with GSM interference.
Cannot attach the probes to alligator clips.
Slow auto ranging.
3. Fluke 87-V Digital Multimeter
Even though it is manufactured from plastic, the Fluke 87 is a really durable multimeter. In addition, it provides auto as well as manual ranging so that you can have maximum flexibility.
One of the greatest feature in Fluke 87-V is the analog bar graph, which makes it much easier for you to read fast changing and unstable electrical signals that many other models cannot measure. To get accurate voltage, this unit offers users with selectable filters.
When you use the wrong input jack, it will produce loud noise to alert. Even though most digital multimeter model the same kind of reading, they would be useless when you are not able to read the measurement results easily on the screen. With a large screen display, the Fluke 87-V allows the users to read results from the distance. In addition, it is made with 2-level backlight that provides more visibility to work in dark areas, even at night.
For those reason, fluke 87 is often considered the best multimeter in the market with unmatched performance.
Pros
Suitable for working with HVAC systems.
Lifetime warranty.
Safe and simple to use.
Perfect accuracy with selectable filters.
Durable.
Provide large dual screen.
Offer inbuilt thermometer.
Cons
Quite expensive.
Clamp amp with low resolution.
Why
Y
ou
S
hould
U
se a
M
ultimeter?
Generally, you will use a multimeter for checking a lot of electrical faults and find out 12 volts sources of power in your vehicle. By doing these tasks, you would figure out the reasons why the batteries of your car are not charging properly and then take necessary steps to solve the problem.
A multimeter is also essential since it allows you to measure resistance while working with sensors, relays, fuses, witches and other parts of the car such as ignition coil, stereo and lighting. For example, when your headlight turns off suddenly, measuring resistance would help you find out if it is broken or not and then decide to buy a new unit or have it repaired.
Other multimeter models would also be able to read constantly, which is necessary for finding broken wires, checking fuses, and any other components of your vehicle which can pass current. Last but not least, the feature of measuring current can help you check for a possible drain in the battery of your car.
How

D

oes a

M

ultimeter Work?

​
Multimeter is a device that is made to troubleshoot electronic or electrical circuits and is applied for examining the voltages to confirm correct operating levels. Basic multimeter can measure voltage, resistance and current. More expensive versions can measure inductance as well as capacitance. In addition, an oscilloscope might have the functions of a multimeter.
Generally, a voltmeter measures the voltage between 2 points, an ohmmeter is used to gauge the resistance and an ammeter allows you to measure the current. A multimeter combine all 3 functions in a single device.
The ammeter function of a multimeter is applied to measure the amount of electrons going through a particular point for a couple of time (the current, for example). In other words, a multimeter can examine how many amperes that any electronic devices are drawing so that you could know if they are drawing excessive flows of current, which would make the circuit breaker open.
The ohmmeter mode helps to measure electric resistance, which is opposite to an electrical current, and uses the units known as ohm. The electrical circuits will have resistance of near zero or zero ohms when they are short-circuited. If the circuits are open, they will have no current flow and infinite resistance.
The voltmeter function in a multimeter is used to measure the electric potential between 2 points in volt, which is particularly helpful to check if the battery is almost dead.
In addition, multimeter allows you to measure voltage and current in 2 different modes: DC (direct current) and AC (alternating current). Most household outlets often use alternating current. Bear in your mind that each country has its own standard in terms of AC voltage. This is the reason why many people find their electronic devices malfunction in other areas of the world. Thus, use the voltmeter mode of the multimeter to check the voltage if you are not sure to avoid any damage.
Battery supplies DC current, while household outlet supplies AC current. So you need to take into account the current mode of what you are trying to measure and set the multimeter to the proper mode to check electronic or electrical circuits accurately.
Types of
M
ultimeter
In the market these days, there are 2 main types of multimeter, including digital and analog:
Digital
M
ultimeter
This is certainly the most common kind of multimeter in the market these days. It takes advantage of digital circuits, which means that this device would measure electrical current in separate increments, while an analog unit will measure in perpetual range of value.
In general, a digital meter measurement is often designed in the form of analog, which means that it would converts to digital from analog form before a measurement can take place. Due to this delay of conversion, a digital unit might not be suitable for gauging value that is changing continuously. Nevertheless, it often provides more precise readings than an analog counterpart. Thu, if your main priority in a multimeter is precision, then digital unit will perfectly suit your needs.
Digital multimeter can be classified into 3 basic kinds: the fluke digital, clamp digital and autoranging multimeter. In addition, most of digital models basically come with a battery that helps power the display.​
Fluke Digital Multimeter
This kind of digital multimeter is generally made with various collaboration functions. It can be often used to measure electrical voltage and resistance with its big display screen. In some advanced models, they provide some additional features for gauging pressure, humidity, temperature, frequency as well as duty circle. For those reasons, it is probably one of the most popular kinds of digital multimeters in the market.
Clamp
D
igital
M
ultimeter
The basic purpose of a clamp digital multimeter is to measure the electrical flow. More specifically, amp value is gauged by the clamp feature, while volt value is gauged by the probes. Watts or power consumption could be calibrated by applying the amps to multiply the voltage reading.
Another feature of a clamp multimeter is its various forms of setting. When using this device, you need to choose a setting which is suitable for the element that you are gauging.​
Autoranging
M
ultimeter
This is probably the simplest type of multimeter to use even though it is as expensive as other digital multimeter models. Generally, the central knob of this multimeter is made with fewer positions. In addition, it does not necessarily need to be changed to the elements that are being measured.
Analog
M
ultimeter
This is the first type of multimeter, which was made before the era of digital multimeter. Basically, it is often more reasonable than a digital unit but is also not simple to read.
This multimeter model takes advantage of a scale with sharp end, which looks like a needle, for the reading. When you choose an analog multimeter, make sure that is made with a high sensitivity to avoid inaccurate reading, which is resulted from the interruption of the circuit.
With a wide range of multimeter models in the market, make sure you go for a unit with the suitable features that is needed for your personal use.​
RECOMMENDATION FOR YOU
When it comes to multimeter market, Fluke is a prestigious and trusted brand, which are renowned for their numerous functions, perfect accuracy and interesting features.
From those short reviews above, we can easily see that Fluke 87-V digital multimeter is not only the most expensive model on the list, but also the most effective investment that you should choose regarding advanced meter measurement for any commercial-level or industrial-level projects.
In terms of specifications, the Fluke 87-V is designed with a system of auto ranging that allows you to change between manual and auto mode; an analog bar graph which follows quickly changing currents; a positive feature which measures the electrical flows from 10 to 20 amperes for every 30 seconds and a negative function to help the unit beeps whenever you put the input jacks in the wrong terminals.
If you need to have the most accurate data and measurements for your electrical demands, then you should also go for the highest quality DMM in the market. And the Fluke 87-V is definitely the best choice that you can find in the market these days.