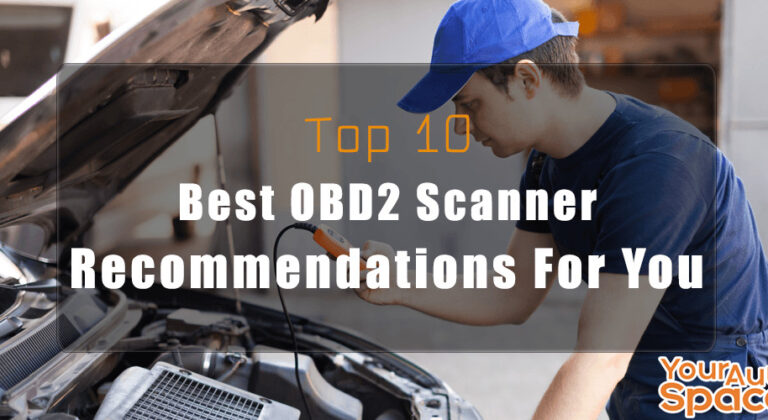 There are a lot of methods you could apply to accessorize and customize your vehicle, but if there is only one device you need to buy, we recommend an OBD2 (On board diagnostics) scanner. In general, this tool will give you access to the subsystem of your car, which could provide information on how to deal with various issues.
Whether you are a skilled technician or a DIY car owner, this device will assess auto problems and then provide you the solution to have it fixed. In addition, an OBD2 scanner would plug in simply and read message from the OBD system of your car. Most car models manufactured since 1996 have been equipped with a computer chip to regulate the engine. Those car computers then send the information to the scanner to get analysis and reading.
For above reason, we do not need to emphasize the importance of this scanner. Even when you are not a technician, it is necessary that you have one of those since you will never know when you would need it for a repair task. Of course, you need to go for the model with highest quality to make sure your car is covered.
Top 10 Best
OBD2 Scanner 
Recommendations 
| Image | Name Product | My Rating | Price |
| --- | --- | --- | --- |
| | BlueDriver Bluetooth Professional OBDII Scan Tool for iPhone, iPad & Android | 4.9 / 5.0 | $ |
| | Innova 3160e Code Reader / Scan Tool with ABS, SRS, and Live Data for OBD2 Vehicles | 4.8 / 5.0 | $$$ |
| | Autel AL619 AutoLink ABS/Air Bag + OBDII Scan Tool | 4.8 / 5.0 | $$ |
| | ScanTool 427201 OBDLink LX Bluetooth: Professional OBD-II Scan Tool for Android & Windows | 4.7 / 5.0 | $ |
| | BAFX Products 34t5 Bluetooth OBDII Scan Tool for Android Devices | 4.6 / 5.0 | $ |
| | Ancel AD310 Classic Enhanced Universal OBD II Scanner Car Engine Fault Code Reader CAN Diagnostic Scan Tool – Black | 4.6 / 5.0 | $ |
| | Car WIFI OBD 2 OBD2 OBDII Scan Tool Foseal Scanner Adapter Check Engine Diagnostic Tool for iOS & Android | 4.6 / 5.0 | $ |
| | Autel AutoLink AL319 OBD II & CAN Scan Tool | 4.5 / 5.0 | $ |
| | Innova 3100i CanOBD2 Diagnostic Tool & ABS Color Screen | 4.5 / 5.0 | $ |
| | Panlong Bluetooth OBD2 OBDII Car Diagnostic Scanner Check Engine Light for Android – Compatible with Torque Pro | 4.5 / 5.0 | |
Top 3 Best OBD2 Scanner Reviews 
1. BlueDriver Bluetooth Professional OBDII Scan Tool for iPhone, iPad & Android
Features:
This tool is created by professional engineer and trusted by mechanics in North America.
Officially certified and licensed for Android and iOS devices.
Provide a BlueDriver Sensor and App that could work exclusively together to make sure the quality.
Designed with the capabilities of a costly handheld scan device, along with the advantage of a tablet or smartphone (saving data, portability, free application updates, and interactive live data).
It is really simple to connecting this scan device to an Android or iOS tablet. Once you have the

BlueDriver

tool connected to either an iPhone or Android tablet, you would get quick access to infinite information and options. In addition to being able to choose some metrics and get them showed real-time, you could also be able to change the warning code. One of the most attractive features of this OBD2 scanner is the check called Smog Readiness Status, which would run a comprehensive test of the car and then tell you whether you are going to pass an emissions test or not.
Pros
Simple to set up and easy to use.
Dependable Bluetooth connection.
Offer comprehensive repairing reports.
Compatible with both iOS and Android devices.
Cons
Extra money for several features such as TPMS diagnosis.
---
2. Innova 3160e Code Reader / Scan Tool with ABS, SRS, and Live Data for OBD2 Vehicles
Features:
Able to read SRS and ABS codes on many 1996 or newer car models of Honda, Toyota, Chrysler, Ford or GM.
Can offer SAE improved Live Data like graphs and views.
Can record and then play back the live PCM information streaming on screen.
Device could be upgraded by using the USB flash drive on a basic Windows PC.
Consist of a quick reference guide, soft pouch, USB cable, OBD2 cable and scan tool.
According to many users, the Innova 3160E scanner would perform precisely as stated. It offers dependable information on your car just as other scanning devices do. The screen could show more than 20 pieces of vehicle information at the same time. In addition, it is also simple easy to use and is fast in terms of creating scan results.
A downside some car owners found with this tool would be absence of several obvious interpretation for most of the producers' trouble codes such as ABS ones. To explain these codes, you need to check them online. Moreover, there is less data from the

Innova 3160E

when you are examining for the general codes of several Korean or European vehicles.
Pros
Perfect when it comes to scanning vehicle information.
Made with a simple-to-use menu.
Includes the SRS and ABS of Toyota and Honda cars.
Cons
Most trouble codes have not been checked online for a clear explanation yet.
---
3. Autel AL619 AutoLink ABS/Air Bag + OBDII Scan Tool
Features:
Registered I/M readiness key with 1 click offers quick drive cycle confirmation and state emissions readiness examinations.
Able to recover pending, manufacturer-specific, and generic codes, including car information.
Reset monitors, clear codes and disable check lights of engine.
Compact tool is portable, so it could be taken nearly anywhere.
Able to play back, record, and read live sensor data.
In terms of price, this

Autel

scanner is actually very good with a lightweight form and colored as well as simple-to-read display. By using this scan device, you would be able to find out trouble codes and similarly learn several useful tips on how they could be solved.
In addition, it also provide several engine parameters and freeze data, which occurs simultaneously while trouble codes are being raised. Apart from the ability to change the trouble codes, this tool also provides a live view of data such as RPM, acceleration and more. If you want your car well prepared for a smog test that is usually required to renew the insurance of your car, a readiness check might be necessary to acquire details on any permanent or pending trouble codes. It is absolutely useful for those who favor to perform car maintenance on their own.
Pros
Satisfactory when it comes to offering essential vehicle information.
Designed with color display that is simple to read and understand.
Reasonable price.
Cons
Materials are made of flexible plastic with low and not durable quality.
---
Why
S
hould
Y
ou
B
uy an OBD2
S
canner?
In the scanner market these days, there are a wide variety of model with different price ranging from 50 USD up to nearly 3000 USD, which would provide a large amount of diagnostic analysis and data. The following is a brief list of the benefits that an OBD2 scanner could bring to the car owner:
The most essential benefit of an OBD2 scanner would be its portability, thus you could check the car easily in any places and at any time. This would make sure that your car is safe to continue for driving instead of calling the mechanic immediately.
The next benefit is that it will help to save you some money. For example, if you are a good vehicle driver, you could diagnose the problem before bring it blind folded to an auto repairing shop. Understanding the exact problem with your vehicle will definitely help to reduce a lot of unnecessary expenses, not mentioning that a repairing shop would charge you for examining the car with their OBD2 scanner.
An OBD2 scanner would provide a uniform, up-to-date and efficient data relay in various car settings as needed by the regulatory body, which is mandated to make sure the minimal emissions.
Lastly, when you need to purchase a second hand vehicle, it is necessary that you do a comprehensive scan of the car before choosing it.
Depending on the model of OBD2 scanner that you are suing for your car, the possible detected problems would be different. But basically the problems which could be found out are as the following:
Problems informed by the sensors of the engine such as fuel pressure, oil temperature, carburetor, exhaust and air intake.
Problems in association with the combustion system in the engine, which performs the function of the throttle, turbocharger, injection pumps and fuel injectors.
Problems with the use of the output system and the ignition of an engine. This would be the malfunction in the timing chain, crankshaft or ignition coil.
Problems with the emission and exhaust setting, including overheating.
Problems with an electric system, including the wiring as well as the fuse box.
How
D
oes an OBD2
S
canner Work?
You just need to plug in the OBD2 scanner to the vehicle's computer output port. In general, most car models manufactured since 1996 will provide a 16-pin plug connector. You could sit at the driver's seat and then plug in the cable of scanner next to the steering wheel. After that, this device will immediately read and analyze the information coming from the computer of your car, which could tell you whether it is safe to keep driving or not.
The OBD2 scanner could be also plugged into a computer to examine the issue with more details. In addition, you will have access to a lot of software applications to deal with the information provided by the scanner. You could find out the expense of the repairing and even the closes repairing shop to have it fixed.
Types of OBD2

S

canners

​
Code
R
eader
In general, this model is simpler and cheaper tools, which is plugged in to a car only for reading and removing error codes. In addition, it does not offer any extra information and might not reflect a larger set of codes used by different car manufacturers.
For example, an OBD2 scanner made for GM cars will just read the general codes saved to the memory and extra codes for GM trucks and cars only. Other information is often provided through a reference leaflet or online, which lists the codes available with short explanation for all codes.
Scan
T
ool​
Scan tool is more complex and is available in some levels of complication, from compact versions for consumer to powerful diagnostic computer applied by commercial car shops. In general, scan tool model provides a wider range of codes and more explanations for all codes.
More advanced or professional versions would offer additional choices such as reviews of both recorded and live data, alternatives for manufacturer-specific code, considerable technical information about troubleshooting all codes and customizable test, parameter, menu or code read. In general, most vehicle sensors that transmit signals to an onboard computer would generate codes which could be read by using an OBD2 scanner.
In addition, it could also read "soft" code, or code that has been found out but not logged yet. For example, a lot of scanner models need to detect a code on 3 successive car starts before it would be included in the diagnostics. The main purpose is to allow for anomaly such as random computer error or false emissions reading.​