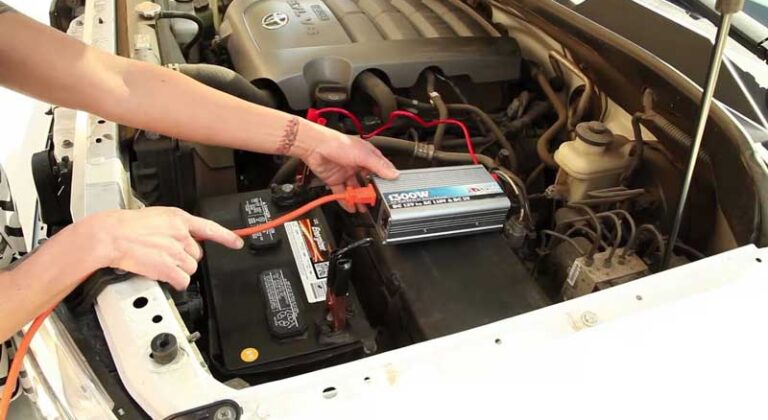 What is a power inverter and what could you use it for?
Power inverter is a device that helps you to change the DC current from the battery to traditional AC current. Thus, you could use it to function most types of device such as computer, radio, television, power device, microwave, kitchen appliance and electrical light.
You only need connect your power inverter with the battery, and plug in your devices so that you would have a portable source of energy wherever and whenever you want to have it.
An inverter gets the power from a battery with 12 volts, or a couple of batteries connected in parallel. When the battery is taken out of energy by the inverter, it would need to be recharged. You could do this by using the gas generator, an engine of the car, solar panel, or even the wind. Or you could easily use the battery charger and then plug in the AC socket to charge your battery.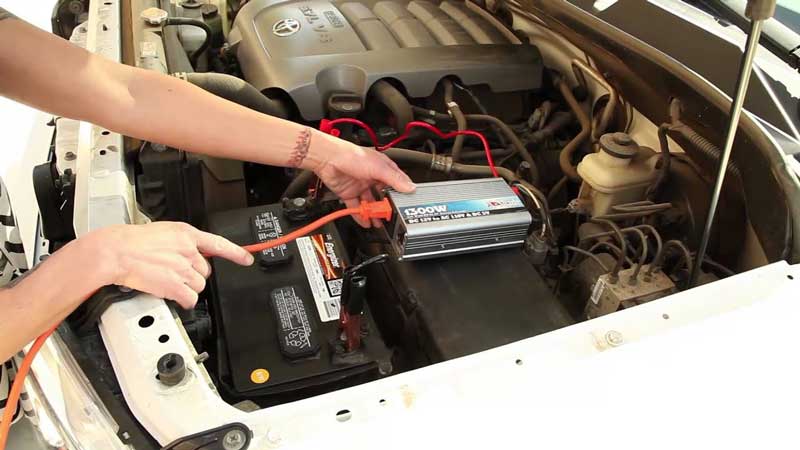 Which size of a power inverter should you choose?
In general, there are a lot of power inverter models with a wide variety of sizes in the market. The size or dimension of an inverter that you buy would depend on the electrical power (amperes or watts) of the device that you need to use.
You could look for the amount of energy consumed by reading the description on the tool or device. In fact, we strongly suggest that you should purchase a bigger power inverter than you believe you would need to use, probably more than the highest load from 10 to 20 per cent.
For example, when you need to use a radio, a light and a computer with a screen in 17 inches, you might need at least an inverter with 500 watts of power, and would think of a bigger model. This is mainly because there will be the time when need to use a fan while playing the computer, or have your children watch the television.
How could you connect with more batteries?
It would be a good idea to use a power inverter with a number of 12-volt batteries, which have the similar form, in the parallel arrangement. 2 batteries would produce 2 times as many as the hours or amperes of just 1 battery; similarly 3 batteries would produce 2 times as many as the hours or amperes and so on. This would extend the time before the batteries would need to be charged again, thereby help you to use the devices for a longer period.
You could also connect a series of batteries with 6 volts together to double the power to 12 volts. Always remember that the batteries with 6 volts need to be connected in groups of two.
Which kind of battery should you use?
Small power inverter:

 Most types of battery in car would generate enough amount of energy from 30 minutes to 1 hour even when you turn off the motor. The real time might be different depending on the condition and age of the battery. If you use a power inverter while turning off the car, you need to start the motor each hour and have it operate for 15 minutes to charge its battery.
Bigger power inverter:

 We strongly suggest you to use a deep-cycle battery, which would provide you with certain hundred full cycles of charging or discharging. If you use a traditional battery for starting a car, it would wear out just after several cycles of charging or discharging. If you do not use a battery with deep cycle, then we suggest you to start the motor of your car while using a power inverter.
When you are using a power inverter with deep-cycle battery, open the motor from 30 minutes to 1 hour and have it operate for about 10 minutes to charge its battery.
What is the protection tool for short circuit? Why should I buy one?
If the short circuit, which could damage the device, be harmful to the health and lead to fire, is going to happen, the battery has the ability to provide a large amount of amperes and current. Thus, one of the most effective ways to prevent this problem is to integrate a device for protection.
In general, it is basically a circuit breaker or fuse which inclines to the positive cable between the battery and the power inverter to help you protect the device. In addition, it would also blow in the minimum amount of time under the condition of short circuit, thereby avoid any problems or damage. It is essential to size the circuit breaker or the fuse properly for the cable and the power inverter.