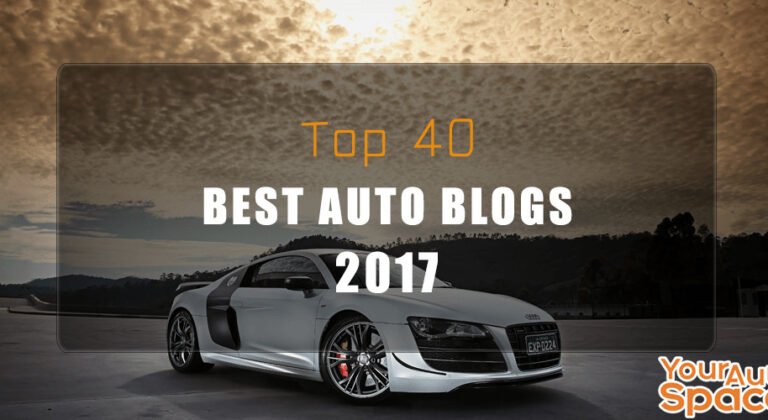 With the development and availability of the Internet, the old way of test driving a few car model does not enough for a purchasing decision.
These days, automotive lovers on the web have created a lot of niche topics related to cars, from auto aftermarkets and engine repair to the burgeoning eco-friendly scene and vintage motorcycles, leading to numerous sources of valuable information for motor junkies as well as casual consumers.
In this post, we will make a list of 50 best automotive blogs on the Internet, ranked by inbound links and user views. Which one takes the best position? Let's find out below:
Autoblog is an internet-based car shopping and automotive news website that is owned and operated by AOL Incorporation in Birmingham, Michigan. With more than 9 million visitors each month, Autoblog is one of the best destinations for you to get the latest news in automotive industry, along with podcasts, reviews, commentary and high-quality photography.
Jalopnik is an opinion and news website about motorcycles, technology, airplanes, transportation, racing, cars, the automotive industry, and much more. They aim to cover all of these things with a cheerful belligerence, transparency, and honesty that cannot be found in any other websites. From time to time, Jalopnik's contributors and staffers are required to test and review vehicles, from a modern jet fighter to a vintage superbike, to depict their real features.
TopSpeed is a great place where any car enthusiasts can find and enjoy the latest news in the automotive industry. By following this page, you will stay up to date with anything happening with your favorite car brands. In addition, TopSpeed's experts always try to cover the latest international automotive shows with impressive and fresh pictures so that you do not need to be there!
Also, do not forget to take a break from reading and have some fun with a huge selection of auto games. Whatever you do, TopSpeed will make sure you have fun.
The Truth About Car was a blog created by Robert Farago, a freelance living in the UK, to provide take-no-prisoners and no-holds-barred automotive news, classic and new road tests, editorials, product reviews and automotive helps. Their writers pull no punches and call it like they see it.
Especially, they aim to set out a comments section for all readers to voice their passionate and informed opinions in the spirit of mutual respect.​
Started in 2007, egmCarTech is an interesting and professional blog dedicated to provide its visitors with the latest news on the automotive industry. They write about every side of the auto industry including the social and political aspect to the hottest new vehicle. They also offer detailed reviews of the most up-to-date models on the market, along with live coverage of car shows around the US.
Over the past few years, egmCarTech has become a daily stop for new car shoppers and auto enthusiasts by building the reputation as a reliable source of automotive news​
Green Car Reports is a part of Internet Brands Automotive, which publishes premium, engaging content on several of the fastest-growing car websites. It is the place where car shoppers turn to for help understanding the world of "green" vehicles, reporting on which models benefit the environment, and which do not do as well.
Green Car Reports also reviews on new models of green car, provides tips and advice to consumers on going green, and keeps green-vehicle enthusiasts in touch with the latest information and news they need to make a good purchasing decision.​
Considered as the world's leading classic car news source, Hemmings Daily is the bible of the collector auto hobby. It was founded in 1954 with the aim of providing all you need to know about classic parts or cars. If you can't find the answer in Hemmings Auto Blogs, it probably does not exist anywhere else.
Autoblog is an internet-based car shopping and automotive news website that is owned and operated by AOL Incoporation in Birmingham, Michigan. With more than 9 million visitors each month, Autoblog is one of the best destinations for you to get the latest news in automotive industry, along with podcasts, reviews, commentary and high-quality photography.
CarType is an automotive museum that features a comprehensive collection of logos, emblems, car company histories, design features, reviews of graphical and typographical applications, and just about anything that is related to auto industry.
Additionally, new categories and sections make this website even more comprehensive, like all forms of specific auto case histories, new articles, as well as a wide range of vehicle reviews ranging from supercars to green vehicles.​
In spite of its name, this website is a great place for any car drivers to update the latest news, spy shots, reviews, features, and commentary about the automotive industry all over the world instead of reflecting a bias towards American models. Produced by some of the brightest and best commentators as well as writers, the Detroit bureau never confuse a few lines of opinion or stop with the press releases with in-depth and insightful reporting.
BMW Blog, founded in Chicago, Illinois in 2006, is an online magazine that providing media content and BMW news to millions of car owners all over the world. It also has a strong presence on social network thanks to millions of followers, who are interested in the greatest and latest BMW videos, photos, and news.
Over the years, BMW blog has not only become one of the most popular automotive sites on the Internet, but also considered as the largest online publication that focuses on a specific car brand.​
Automoblog is an automotive lifestyle and culture publication that provides coverage of industry technology, trends, and news. The site consists of a very passionate and professional group of car enthusiasts, meaning that everything you read on the AutomoBlog is the result of hard work and creative process. Moreover, you can find many vehicle-related topics, from new model reviews, new car specs, emerging technology trends to trim levels, in-depth reports, and product evaluations. Running series include Letter From The U.K, Book Garage, and Memory Lane to capture the exhilarating life that could be lived behind the wheels.
Founded in 2004, the mission of Green Car Congress is to cover high-quality and timely editorial about every policies and issues of sustainable mobility, including products, technologies, and energy options. The audience of this site comes from various backgrounds of transportation and energy market such as academia, government, industry, and the public. By following Green Car Congress, you will get useful information to facilitate and foster the exchange, community, and interaction across the market as well as support the adoption of sustainable energy solutions.
This is an online site that is created especially for the GM Chevrolet Volt extended range electric model, a radically different car than any on the market today. Basically, it works as a conduit to GM about public opinions and overwhelming supports for this vehicle by covering all the most up-to-date information about this version as well as advanced technology. Also, you can join its forum for discussion with other car enthusiasts all over the globe.
Car and Driver has a special role in the world of auto magazines, a position achieved by a unique combination of style, dedication, technical knowledge, and the ability to put their audience in the driver's seat. The writers and editors take a diversified approach to the models that they cover, ranging from the exotic to practical.
Each month, the website presents the latest new pickups, SUV, vans, and cars – domestics and imports – with a focus on those vehicle heaven-sent for the woman or man who knows the reward that an outstanding car can bring to its driver.​
Since its establishment in 2008, Asphalt & Rubber has become one of the most influential voices on motorcycle industry. Providing not only motorcycle rumors, racing, and news, the site counts itself as one of the few sites covering business and entrepreneurship problems inside motorcycling.
With Asphalt & Rubber's various commitment not only to the coverage of what is happening in the motorcycle industry, but also the active role in shaping this industry, there is nothing surprise when many industry CEOs are their loyal readers.​
Automotive Addicts was a website created especially for automotive enthusiasts of all kinds. Whether you are dreaming about driving like a maniac, enjoying the presence of other vehicle lovers, looking for your favorite super car or having an interest in the automotive industry, visiting The Automotive Addicts will make you feel at home. By creating original and creative contents, it tries to give the readers the most interesting coverage in automotive industry. In 2013, The Automotive Addicts changed its focus to the local automotive enthusiasts in Jacksonville, Florida and the surrounding area.
Ride Lust is a website created by vehicle enthusiasts for vehicle enthusiasts. It is all about the jones for motorcycles, SUVs, trucks, cars, or any form of mobility that are presented in a politically incorrect and factually accurate forum.
Ride Lust features new car photos, videos, reviews, raves and rants and anything else that it feels might be of interest to the readers who loves wheeled transportation. All of the writers always try to represent themselves and the automotive industry in the most entertaining and unerring way possible so that you can have fun when reading this site.​
Keith Cornett, the founder and senior editor of Corvette Blogger, was interested in Corvette his entire life and created this site to help people buy and sell Corvettes easily. By following this page, you can get every specific answer about Corvette model and appraisals or valuations. Since 1995, more than 20,000 Corvettes have passed through this system, making it one of the most popular sites for this awesome model.
BMWCoop is definitely your exclusive online mecca for everything related to BMW, from reviews, news to blog. As the number one BMW blog in the world, it is dedicated to BMW enthusiasts and drivers by bringing the BMW faithful up-to-the-second reviews, news r spy shots of your dream cars.
Therefore, if you are desiring a BMW, this is probably the only blog you will ever need as it will provide the most precise information available.​
Founded in 2006, Cyril Huze Post is created to review custom motorcycle products and companies, comment on custom motorcycle news, and profile all those figures who have the impact on motorcycle industry. In this site, you will find perspective, tidbits, tips that you won't read elsewhere as, well as original interviews, unique insights that would be of interest to the usual motorcycle scene.
The Weekly Driver column was created in 2003 as a weekly feature for CityExpress.com, a Canadian syndicate. That name then transitioned into the current website, and now the weekly new car reviews are featured on this website as well as some other sites. In addition, you can get high-quality content on The Weekly Driver, from car videos, popular guest contributors' reviews to automotive industry news, which are available for both print and electronic edition.
The Torque Report was founded by a group of car enthusiasts in 2007 and worked as a go-to source for all the most up-to-date reviews and news in automotive industry. By following The Torque Report every day, you can get updated with the top trending rumors, reviews, and hot stories that are happening in the auto industry all over the world.
Have you ever wonder what Caltrans is up to? What are the traffic laws? Or want a heads up on the road work that might affect you? You can find all of the answers at Road Warrior. This is an online site that is created to keep its readers updated and informed on changes in the traffic laws, the road work in the North Coast, or anything else that would help make your driving easier. Therefore, if you have any questions, feel free to send to Road Warriors.
TrueCar incorporation is a digital automotive marketplace that is created to being the most transparent brand in this industry. In this blog, readers can get all necessary information about the prices that other consumers pay for the vehicle they want, which allows them to have a more confident purchasing experience. With a large network of more than 14,000 certified dealers and affiliation with nearly 500 companies, TrueCar blog will make it easier for to while choosing your dream car.
Motor Trend, first appeared in 1949, is an American online automobile magazine with nearly 1 million readers each month. In the blog, you can find comprehensive vehicle comparisons that typically feature from 4 to 7 vehicles at the same time. Also, the magazine provides a road test monthly to give the readers information about all features of a vehicle for a more informed purchasing decision.
One of the most enduring and the earliest of the Motor Trend's creations was the Car of the Year award, which given almost continuously since the inception.​
As its name, the main mission of Good Car Bad Car is to aggrandize, promote, and advance the Good Car and dethrone or eliminate the Bad Car by incorporating as many unique auto sales analyses as possible while making space for car review weekly. Also, there are many segment breakdowns with detailed charts and data for large, midsize, and small cars, minivans, SUVs, crossovers, trucks, and sporting automobiles that are done for both Canada and the US on a monthly basis.
For those who are addicted to Porsche, this site is definitely a perfect choice for them. Originally founded for a place to write about an 1997 993 model, today, Flatsixes is probably the best destination for Porsche owners and car enthusiasts who interested in products and lifestyle associated with Porsche brand. With entertaining and original articles covering everything from maintenance and purchasing tips, product and car reviews to motorsports and other Porche news, this site attracts more than 100,000 subscribers and visitors each month.
National Motorists Association is a grassroots group of motorists gathered together to protect their rights on the streets, in the courts, and in the vehicles. Currently, the alliance has thousands members in all 50 states in the US as well as in some provinces of Canada. By following their blog, you can get latest news and information on traffic safety tips, traffic laws or rights to have safe driving on the road.
The eBay Motors blog is created to help those who regard their ride as a way of life to live the best life on the road. With incredible and smart group of writers, this blog is on the mission to: look for the coolest car projects and builders to tell their stories; hunt low and high for the sickest collector vehicles whether instant classics or enduring models; and reveal how people are modding and tricking autos for better performance.
Autosavant, which literally means a person of extensive and profound learning to automobiles, is a group of experts who have been exposed to vehicles and car business for decades. And this website is a great place for them to share some of those experiences with the readers all over the world.
Most of the writers are living in the US and Singapore, meaning that a global picture concerning automotive industry and products is covered, in both information as well as opinion.​
Just like your garage, The Garage Blog tries to keep and collect all sorts of cool things related to vehicles. In this site, you will find pictures, news, reviews, stories and other stuff about car, automobile industry and other things that you would find in any garages.
The Safe Driver is a personal blog that is created by Scott Marshall, director of Training for Young Drivers in Canada. Recently he has hosted the national driving test as well as the judge on three seasons of Canada's Driver. In 2005, Scott founded this driving site to share with the readers all of his experiences in driving for the last 20 years.
Norman Gregory Fernandez, the creator of infamous Biker Law Blog, is both an Attorney at Law and avid motorcycle rider. In this blog, he wants to share with all readers his experiences in riding, including special issues related to motorcycle accidents, legal problems on the road. If you have been injured in a motor vehicle, the Biker Law Blog is a good site for you.
The Chicane is a place where you can find avid supporter of old racing cars. The sounds: high-pitched whine these days does not do it for them. The colors: from Gulf orange and blue, to national race colors, to Gold Leaf gold and red, to Martini blue. The smells: race fuel always brings a pinch of sweetness. This site is dedicated to those people who keep those cars in good conditions and drive them like hell.
Belt Drive Betty is known as the editor of the Busted Knuckle Chronicles, which is the owner of Belt Drive Betty Media and beltdrivebetty.com. This blog is created to share with car owners the most up-to-date knowledge in the world of motorcycle, including the riding, the politics, and the people.
Betty is an avid motorcycle enthusiast, friend, wife, mother, and foe!​
Clean Fleet Report covers the latest and most important information that any car enthusiasts need to know about trucks and cars with the best mileage, including fuel cells, electric cars, hybrids, plug-in hybrids, advanced gasoline engines and clean diesels. Also provided are other thorough approaches to sustainable transportation such as electric trucks, high-speed rail, public transit, and alternative, heavy-duty fuels, biofuels as well as car sharing in the US.
Kevin Kantola or HydroKevin, the editor, writer, and also publisher of this personal blog/ website, always has a strong belief in the future of hydrogen car. Thus, he created this website to share all about hydrogen vehicles, infrastructure, cars, and the upcoming hydrogen economy. By reading his interesting posts, you will explore the advanced technology behind hydrogen cars and many exciting news about the industry that will shape a new H2-centered world.
It reports on the latest top stories, car reviews, auto shows and more from across the industry.
AutoTribute is well-known for their tribute to the good cars, whether these are new or old; European, Asian, or American; mainstream or sports car. What really differentiate this website from the others is the sparing of overload for the readers. In other words, they set out to make a platform that provides you the latest and most news, reviews, and videos that that allows you to keep up to date, learn, share and discuss on the development in the automotive industry.​
The owner as well as writer of Wildsau – Tom Sedens – has been a vehicle and driving freak his whole life. He is also an accredited member of the Automobile Journalists Association of Canada (AJAC).
In his blog, Wildsau writes all about vehicles with an exhaustive review style, meaning no stone unturned and the inclusion of as much information as possible about a vehicle, especially smallest important details. If you have any questions about cars or auto shopping, feel free to contact Tom for the best answer.​