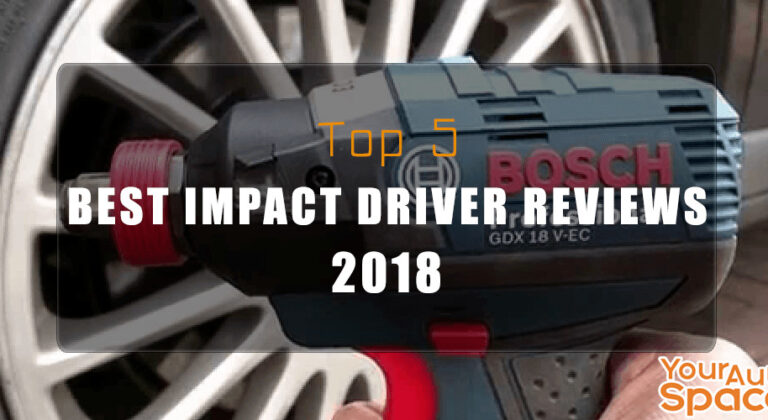 Impact Drivers are an important part of your work. Having a great impact driver and knowing how to properly use it can greatly speed your work. It can also make things a LOT easier. Just imagine all the fuss and trouble you would endure if you had to loosen an over-torqued bolt or nut by hand.
You need an Impact Driver that has the right power, has the features you need, is durable, and is always reliable. You may need a driver that is battery powered. Then how long the charge lasts can be a big factor in how your day goes.
Please see our big list of Best Cordless Impact Driver on our comparison chart below. Here you can compare one top model with another to pinpoint the value that is best for you. As always, we link to the lowest prices on the Website.
Top 5 Best Impact Driver Comparison 2020
| Image | Name Product | My Rating |
| --- | --- | --- |
| | Makita XDT111 3.0 Ah 18V LXT Lithium-Ion Cordless Impact Driver Kit | 4.9 / 5.0 |
| | DEWALT DCF887D2 20V MAX XR Li-ion 2.0 Ah Brushless 0.25″ 3-Speed Impact Driver Kit | 4.8 / 5.0 |
| | Bosch PS41-2A 12-Volt Max Lithium-Ion 1/4-Inch Hex Impact Driver Kit with 2 Batteries, Charger and Case | 4.8 / 5.0 |
| | DEWALT DCF885C2 20-Volt MAX Lithium-Ion 1/4-Inch 1.5 Ah Impact Driver Kit | 4.8 / 5.0 |
| | PORTER-CABLE PCCK640LB 20-volt 1/4-Inch Hex Lithium Ion Impact Driver Kit | 4.7 / 5.0 |
​
Top 5 Best Impact Driver Reviews 2020
This model is quite similar to the Makita XDT042 and includes carrying case, charger and battery. The XDT111 of Makita is made with a 4-pole motor, which has variable rotating speed and provides 26 percent more RPM without reducing the torque. Therefore, you could use this tool for a wide range of fastening and driving jobs.
With the largest 18-volt cordless lineup in the market, LTX Li-Ion battery in this model offer a user with extended life and perfect performance. In addition, quick-charging technology would reduce the downtime while working.
The comfort is maximized with a soft grip in rubber as well as an ergonomic form so that it would reduce the fatigue of a user. Moreover, working in confined spaces and dark areas is much easier and more effective thanks to small dual LED lights.
Last but not least, with XPT or Extreme Protection Technology, this impact driver model is made to for improve dust and water resistance so that you would work in extreme conditions.

Pros

Dual LED lights.
Quick bit replacement with hex chuck.
Powerful torque with 4-pole motor.
Compact design.
Mental housing for improved durability.
Fast-charging and durable battery.

Cons
The DCF887D2 impact driver model of Dewalt has a brushless engine, which provides more time of running compared to a brushed engine.
This version combines a lightweight and compact form with high speed flexibility, offering three settings of pace, namely 0 to 1000, 0 to 2800 and 0 to 3250 revolution per minute (RPM).
Last but not least, with two 20 V batteries in MAX Li Ion technology, this device gives user more run time ability to handle the impact requirements.

Pros

Ergonomic Friendly Design & light weight body.
Slim handle covered by comfortable rubber layout.
3-LED light for avoiding shadow.
One handed easy loading system with super fast motor.
Energy Star charger for a better environment.

Cons

No bit holder.
Lack of battery Life Indicator.
This is one of the most highly recommended drills for personal and home use in the market.
The PS41-2A of Bosch is an incredible device that could complete a variety of uses.
Moreover, with a versatile head of drive, it permits user to work easily and quickly with the newest driver or drill bit, and the perfect torque also makes it suitable for toughest tasks in your home.
Last but not least, the diminutive form means that it will be definitely a useful tool for any home or professional users to use in confined working space.

Pros

Ergonomic Friendly Design & light weight body.
Slim handle covered by comfortable rubber layout.
3-LED light for avoiding shadow.
One handed easy loading system with super fast motor.
Energy Star charger for a better environment.

Cons

No bit holder.
Lack of battery Life Indicator.
Dewalt DCF885C2 impact driver is a USA manufactured driver, coming with 11 items in the kit box. With two batteries and rechargers, you will have long time support to work.
Moreover, the durable motor ensures good drilling experienced; meanwhile, 3 built-in LED light provides safe and accurate working experience.
Thinking of the size and weight, a 5.5-inch small body with slim handle and one-handed loading feature is enough to get maximum advantage to create holes and driving long screws.
Built-in 3 LED Light: The driver has 3 built-in LED light so that you can work safely and watch what you are doing. Many of you do mistakes while creating holes and driving the screw in wrong place. Therefore, the 20-second delay starter light will help you in this case.
Energy Star Certified Battery Charger: As you know, Dewalt offers Energy Start Certified battery charger to charge the tool's battery. The quality and standard of the charger is better for environment than other random chargers.

Pros

Ergonomic Friendly Design & light weight body.
Slim handle covered by comfortable rubber layout.
3-LED light for avoiding shadow.
One handed easy loading system with super fast motor.
Energy Star charger for a better environment.

Cons

No bit holder.
Lack of battery Life Indicator.
Porter cable pack are very popular for the high performance. This is an excellent portable impact driver working on battery.
This high torque offering kit delivers much higher power as well as run time as compared to the other brands and models.
If you are one who has fatigue problems, then this model of impact driver suits you best as you will not strain much while operating the tool.
The kit comes with accessories which help you in fastening the applications, extra battery, gloves and much more.

Pros

High-Speed Motor: The first pros of the drilling machine will be its high-speed motor that gives nearly 900 rpm to the users. With speed variations, it has become easier to any user to select speed of work and feel comfortable while drilling.
Battery Life Display: Another big advantage of using the drilling machine will be its battery life indicator display. Don't forget that maximum drivers do not have any display for battery life. As this model has the display, it's easier to know when you should charge the driver.

Cons

Weight Compared to other Models: Although 3.2 pounds weight of the driver is regarded as lightweight, it is not. Still there are many driver kits which are lightweight than the driver.
Why Should You Select Impact Drivers At All?
When something makes your life easy then it is a general tendency that you would choose the product regularly as it is very advantageous in doing so.
1. Understand the difference between the drills and impact driver: While drills can apply a constant torque and have excellent control across various speed ranges and settings,  impact drivers can offer much powerful torque with potentially more linear force.
2. Handle them easily: Impact drivers can be handled easily without using too much force to turn them on/off or during operation. Without applying much force you can provide good torque.
3. RPM: The rotation force is provided by the momentum of the strike. Hence you can get better rpm with these impact drivers as compared to any ordinary drills.
4. Suitable for heavy duty: As the impact drivers have rapid bursts because of the linear force they apply when you operate them, they are very much suitable for any kind of heavy duty jobs.
5. Operates without clutches: People who have irritation with using clutches should be more happy now as these impact drivers can operate without them.
6. Has a quick release hex chuck: Hex chucks make your bits changing job a lot easier. You can just slide the outer ring, push it forward and drop the bit, slide and load it.
7. Throw some light: You can use these tools day and night as they are LED operated.
8. Wide range of utility: They can be used for both residential as well as commercial purpose. Whether it comes to woodworking or simply removing or tightening the nuts, these tools come handy.
9. Durability: Who does not want to save money on these impact drivers? Most of these tools are very durable. As you can replace the individual worn out parts, it can be easily used for longer term to help you fix all the necessary nut and bolt jobs.
10. Are they good for gearhead? You can save a lot of time with cordless impact drivers. These drivers are very much suitable for smaller engines as you can get the work done quickly. However, do not worry there are other variety impact drivers which are very much suitable for bigger gearheads.
Do you wanna learn how to buy the best impact driver? Read more to find out!
These step by step instructions help you learn how to buy the best impact driver which can be used for all purposes.
Step 1: Select the right torque: Impact drivers are equipped with overwhelming torque. Make sure that you select the ones which have a powerful torque just enough to drive long and short screws.
Step 2: There's the driving screws: Buy those drivers which can make drills easily. Choose the one with optimal rpm so you can drill bigger holes with a smaller driver.
Step 3: Wanna try one handed driver? Try the one-handed which can balance the torque and its rpm. This is much better than the ones you operate with two hands as you will save some energy in trying to push too hard.
Step 4: Do you love to be loud? Impact drivers generally make loud noise just like heavy drummers in your ears. Try buying a hearing aid to prevent your ears.
Step 5: Easy to handle: Why do you want to stress you hands and arm when you can get superior quality impact drivers which can handle all the stress for you?
Step 6: Impact ready: You can buy the hex-shaft kit to prepare against any impact.
Step 7: Don't be flattered by looks: Looks are most deceiving. Always consider impact drivers which transfer torque to and from motor to chuck. This can offer excellent shock resistance.
Step 8: Consider a combo: When you buy these accessories which go with impact drivers, it can cost you less. Hence make sure you combo the items such as hammer, drill, driver and few other tools when you buy your new impact driver.
Cordless Impact Driver vs Corded Impact Driver Infographic
More Tips, Information and Guides
I will share all the useful information that I know. Here are some of my Tips for you. I hope you like it:
Conclusion
While making your selection for the best impact driver, you need to consider various factors as described in this article.
One other important factor you need to remember is understand the exact purpose of why you need to buy the impact driver and where exactly you need to use it.
Once you figure out the exact purpose, then you will know which impact driver you must purchase.
Most of the details are covered in our guides and we are happy to answer any new questions you may have apart from what we have explained on our site.
If you get the most suitable model and brand of impact driver, then you will have an amazing experience working with your power tool.
The neatness and preciseness of work you can do with your power tool is not comparable to any other repair work you may get outside by shedding lump sum money on the contractors.
Besides that work satisfaction you get from these impact drivers are just priceless.
Do your own research, take our help, stay safe and enjoy using the best power impact driver.
If you find this buying guide useful, feel free to share and leave a comment in the section below. Thank you for reading!