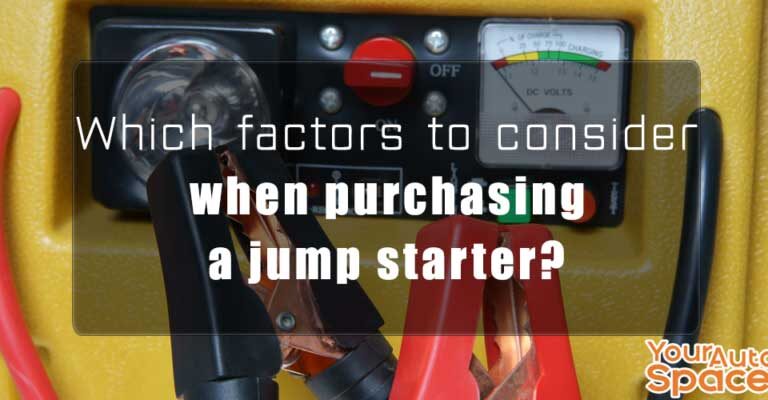 Sometimes, you will have a problem with your car on the road and need to jump start it.
Although cars are becoming more modern than ever before, they are still operated by the batteries or gas motors.
Those batteries often run of of energy and the key to come home is to jump start your car.
With a wide range of models in the market, it could be hard for you to buy the most suitable jump starter.
That is precisely where this article could help you to look at the most important factors for purchasing a jump starter.
The need kind of jump starter
The first one to consider is which kind of jump starter that you need. In general, there are 3 basic kinds of device for a jump starter.
The first is a portable starter, next is the battery charger and the last is a set of cables.
Your budget
The next thing that you need to consider is how much money you want to spend on buying a jump starter.
In general, it would device a couple of things on your jump starter such as general features, size and design.
You should not spend excessive money on a jump starter if you do not need it a lot, but also do not buy the cheapest model either.
Make a good and careful decision that would bring you the best jump star for your budget.
The dimension of a jump starter
The dimension of a jump starter that you buy is very important. In general, portable jump starters have various sizes and you need to be sure that it is compact enough to be kept in confined spaces.
This is the reason why the dimension is not the only vital thing, the shape also needs to be considered as well.
In addition, the dimension would also have an effect on the price, so you have to consider both factors at the same time.
The charging descriptions
This factor is quite simple. In general, you need to be sure that your jump starter would have enough amount of energy to jump start a car effectively.
Some users are worried that their jump starters has more amount of energy than necessary to jump start the car.
However, you do not need to anxious about that. The battery would automatically get the proper amount of energy from the jump starter.
The included protection
You also need to be sure that you consider the included protection with a jump starter.
For instance, a couple of jump starters would turn the power off or make an alarm sound if the cables are not connected properly.
This could be very helpful and safe for those who are using a jump starter.
The extra features
You also need to consider the features of a jump starter that you want to buy. There are a lot of different helpful quality, and some of them would be more helpful to a person than other people.
Thus, remember to try a wide range of jump starters before purchasing and find out which model is most suitable to you.
Some features such as charging display, LED flashlight and USB ports which permit the users to charge a smartphone, tablet or laptop are very useful. Some types also provide an air compressor to inflate the tires of your car as well.
The guarantee
Another thing to consider is the guarantee. Most of jump starter manufacturers would offer some type of guarantee, but you need to read the small print carefully before going for it.
Be sure that you would be able to have the jump starter replaced or give it back if it breaks down in the first few years of using.
The reviews of customer
Lastly, you need to look at some reviews of the customer as it would tell you a lot about a jump starter.
In general, they could tell you which models work and which types do not; make you to pay attention to any issues that are not mentioned in description of the manufacturers.
Always remember to check the online reviews for any jump starters that you purchase and be sure that you consider both sides of them, including the positive as well as negative online reviews.
In conclusion, there is a lot of important factors to consider while you are purchasing a jump starter.
Just as anything else, you will need to be watchful and find out necessary information carefully on product before you purchase.
Fortunately, the online blogs have made this step become much simpler, and permits you to make a quick comparison between 2 or more types of jump starter.