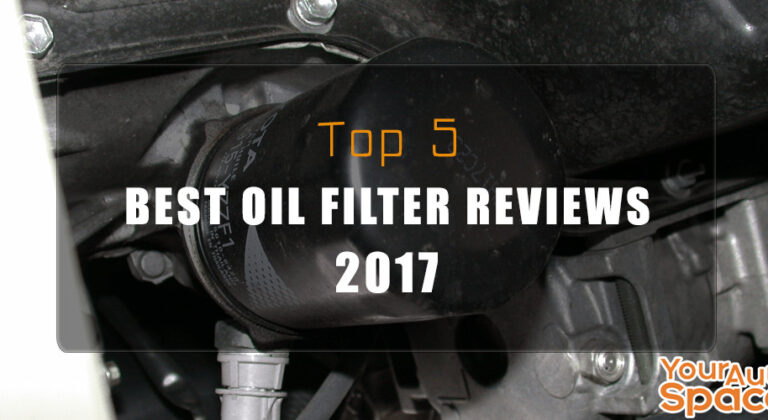 Most of the car owners agree that the lifespan of their vehicles highly depends on the performance of the engine. However, due to the changing road and climatic conditions, the car engines have increasingly exposed to harsh weather conditions that would put their performance at risk.
These days, we have seen the most efficient running engines thanks to the presence of computers: sports car reaching up to 40 miles each gallon, trucks getting up to 30 miles each gallon, and even family vehicles reaching up to 50 – 70 miles each gallon without any serious problems.
However, to make sure everything operates as smoothly as possible, you also need a high-quality oil that is able to withstand high temperatures, and a suitable oil filter to keep the oil clean of any abrasive particles.
In this guide, we have made a list of the best oil filter products available in the market for your consideration. These ones are not fit universally, so you need to choose the right product based on the specs of your car as well as your personal demands.
Top 5 Best
Oil Filter
 Recommendations 2018
| Image | Name Product | My Rating | Price |
| --- | --- | --- | --- |
| | Mann-Filter HU 816 X Metal-Free Oil Filter | 4.9 / 5.0 | $$$ |
| | Mobil 1 M1-110 Extended Performance Oil Filter | 4.8 / 5.0 | $$$ |
| | Bosch 3323 Premium FILTECH Oil Filter | 4.8 / 5.0 | $$ |
| | ACDelco PF2232 Professional Engine Oil Filter | 4.7 / 5.0 | $$ |
| | Motorcraft FL-910S Engine Oil Filter | 4.7 / 5.0 | $ |
Top 5 Best
Oil Filter
 Reviews 2018
When it comes to removing water, dust, and other harmful elements from the engine oil of your car,

M

ann-Filter HU 816 X

is probably one of the best oil filters on the market these days. This product is especially compatible with BMW 7 series 740i, 730i, 5 series, 535i, and Z4 S Drive 35i.
With a high capacity of holding dirt, the HU 816 X is able to block unwanted elements in a large surface area, thereby offering the optimal protection for the engine of your car. In addition, pleat structuring also allows the whole filter area to be effective during the operating time so that you could drive without any difficulty.
The bypass valve of this product is coated with Teflon and the non-return stop membrane is made of high-quality silicone. Therefore, this oil filter is anti-corrosion protected and pressure-resistant on spin housing. Last but not least, you can easily dispose it off by using wrench removal tools.
Pros
Optimal engine protection.
Fast replacement.
High separation efficiency.
Good value for money.
High capacity of holding dirt.
Cons
Not so good mechanical system.
This is probably one of the best oil filter products on the market that offers reliable and excellent services. With the capacity of up to 28 grams, it is able to hold double the contaminants compared to other kinds of oil filters. In addition, you can use this high-quality oil filter effectively to get rid of nearly 99.6% of contaminants in the oil, which will make sure that no or minimal amount of contaminant comes in and eventually improve the performance of your car's engine.
Through the application of a silicone anti-drain back valve, this product can prevent dry starts by avoiding any internal leakage in a shutdown. Also, it is able to work under high pressure, which is up to 9 times the normal operating pressure. This ensures an incredible protection of nearly 615 P per square inch that helps the filter work properly for a longer time.
Pros
Long-life performance.
Accurate and efficient.
Large capacity.
Withstand high pressure.
Prevent dry starts.
Cons
Quite expensive.
Smaller than usual oil filters.
Bosch is a reputable German brand that is well-known all over the world for their high-quality industrial products and automotive components. And the

3323 Premium

oil filter is not an exception as it is a perfect combination of high efficiency, affordable price, and durable performance.
With exclusive media technology called FILTECH, this product is able to screen out harmful, and even microscopic contaminants in oil for better engine protection as well as a higher flowing rate of oil in the system. Also, it features strong steel base housings and plates, which are designed from a unique blend of natural and synthetic materials, in order to prevent warpage, poor fit, and leaks.
This oil filter also comes with a well-lubricated gasket that allows for simple removal and provides a tight seal of the filter in the engine. When it comes to offering clean oil when you are running the engine, you will find it very effective thanks to the silicone anti-drain back valve technology.
Pros
Affordable price.
Anti-drain technology.
Durable materials.
Prevent leakage and fit.
Protection against microscopic contaminants.
Cons
Oil leakage in some situations.
Another great oil filter that is used commonly by many car owners on the market these days belongs to ACDelco. With an excellent filtering capability, the PF2232 is able to block the contaminants at 25 to 30 microns with 98% multi-pass filtering efficiency.
In addition, it is designed with a cellulose media that could trap the particles in 1/3 the width of human hair. This means that the engine oil in your car will be free of any small debris or dust so that the oil supply would be clean for normal operation. To get dependable and consistent filtration, the manufacturer has integrated thermosetting adhesive seal to keep the filtering media in a fixed place.
The perfect filtering capacity is mainly designed to improve efficiency, offer durability as well as consistent flow of oil in the engine. Compared to other types of filter, the burst strength of this product is 5 times stronger. Therefore, it can work normally under any operating pressures when the oil gets to the operating temperature.
Pros
Perfect filtering capability.
Trap small particles.
Dependable and consistent filtration.
Strong burst strength.
Affordable price.
Cons
Do not fit some trucks and SUVs.
The

Motorcraft FL-910S

is especially manufactured to meet most of high-quality standards of the Ford Motor Corporation. This product is highly recommended by Ford as an original equipment replacement oil filter for Mercury, Lincoln, and Ford cars.
It is made to screen out abrasive elements, including metal, dust, sand, and carbon to prevent them from getting into the oil in your car's engine. With pressure-relief valves, you can minimize the possibility of contaminated oil moving back to the engine. In addition, this also helps keep the oil supply under extreme cold conditions or when the filter is clogged.
The outer cases are made of steel to help resist rust and included flutings for easy removal. The great filter media increases the capability of collecting dirt and other harmful particles. Last but not least, the silicone anti-drain back valves would prevent the engine oil from draining out of the system when the engine is not operating.
Pros
Steel outer casings.
Efficient filter media.
Pressure-relief valves.
Silicone anti-drain back valves.
Cons
Quite slippery when it gets oil.
Why Should You Change Oil Filter for Your Car?
As you know, an oil filter is the main defense line of the cam bearings and crankshaft when the oil moves from the reservoir to the engine. This means that it helps get rid of unwanted solid elements such as metal particles, carbon, and dirt from the system. Otherwise, these entrants could damage the journal, bearing, and cylinder wall surface when they reach the engines, which will eventually lower the performance of your car.
Over time, the trapped dirt will build up in the filter until the point when the passage of oil is obstructed, which would lead to many problems in the engine of your car. Therefore, you should change an oil filter frequently to prevent these serious situations while driving on the road.
There are a lot of factors when it comes to determining the frequency of changing an oil filter in your engine. In general, car manufacturers usually suggest replacement every other time you get your oil changed, while most oil and parts manufacturers suggest replacement with every oil change (which would happen every 3 months or 3000 miles).
RECOMMENDATION FOR YOU
Among five oil filter products mentioned above, the

Mobil 1 Extended M1-110

is our most recommended oil filter for you as it is made by a well-known brand and of much higher quality. This particular product is able to remove contaminants and dirt with the efficiency of up to 99.6%. In addition, a synthetic fiber blend media is applied to take in more contaminants in the engine (holding up to 28 gram). With an aluminum canister, it is able to withstand up to 9x operating pressure, or up to 615 PSI.
To sum up, there are many important factors that you need to take into consideration when choosing the best oil filter, including the filter media quality, the filter capacity, the by-pass pressure, the structural integrity, and the efficiency of capturing particle. Make sure you choose a suitable product for your car's engine to keep it in the best condition for a longer time.
If you find this buying guide useful, feel free to share and leave a comment in the section below. Thank you for reading!