Have you ever get stuck in on the road with heavy snow and wait hours for help because of a died or drained battery? Well, even though you are a cautious man, who takes care of your car very well, the worst things would happen in the most unwanted situation. In other words, the Murphy's law says that "anything would go wrong will go wrong".
In this case, jump starting your car in traditional way requires bulky devices and wastes a lot of time. Instead, by using a jump starter, which could be carried with one hand, you could connect it to the battery easily, then charge for about 15 minutes and drive your car back home.
But which features would a user consider?
In this buying guide, we have reviewed on best jump starters in the market by providing useful information on prices, technical details and comparison between popular models.
We hope that you could find out the most suitable model for your car after reading.
Top 10 Best Jump Starter and Best Portable Jump Starter 2020
| Jump Starter | Name Product | AMP |
| --- | --- | --- |
| Type: Jump Starter | Stanley JC509 1000 Peak Amp Jump Starter | 1000 Amp |
| Type: Jump Starter | ​Jump-N-Carry JNC1224 3400/1700 Peak Amp | 3400 Amp |
| Type: Jump Starter | Jump-N-Carry JNCAIR 1700-Amp 12-Volt Jump | 1700 Amp |
| Type: Jump Starter | NOCO Genius Boost HD GB70 2000 Amp 12V | 2000 Amp |
| Type: Jump Starter | Schumacher PSJ-2212 DSR ProSeries 2200 | 2200 Amp |
| | Jump-N-Carry JNC770B  | 1700 Amp​ |
| Type: Portable Jump Starter | Anker Compact Car Jump Starter and Portable | 400 Amp |
| Type: Portable Jump Starter | DBPOWER 600A Peak 18000mAh | 600 Amp |
Top Rated Jump Starter Reviews 2020
My Rating: 
In general, the JC509 model of Stanley, a famous and reliable brand for the products with high quality, is a powerful device. This jump starter has a battery with the immediate power at the beginning of 500 amperes and the peak current up to 1000 amperes. Thus, it provide adequate mount of energy so that you could jump start a wide range of vehicles such as boat, truck, motor, van, RV and car.
The JC509 is easy to use; all you need is to connect the clamp to proper things. If you do not connect it appropriately, this device will make a loud sound to warn you to change the metal clamp to another proper polarity.
You could charge your portable devices such as laptop, tablet or smart phone by using an integrated USB and a socket with 12-volt DC current. In addition, it also has a small LED light to work in dark areas and an air compressor with 120 psi to fill any tires in emergency cases. After using, you could charge this device easily just by plugging in a socket until the display turns to green colour.
Pros
Powerful device with adequate amount of energy
Durable and high quality
Easy to carry around
Reasonable price, ranging from 70 to 80 USD
Provide LED light and air compressor
Cons
Battery does not have protection for overcharging
Non-returnable device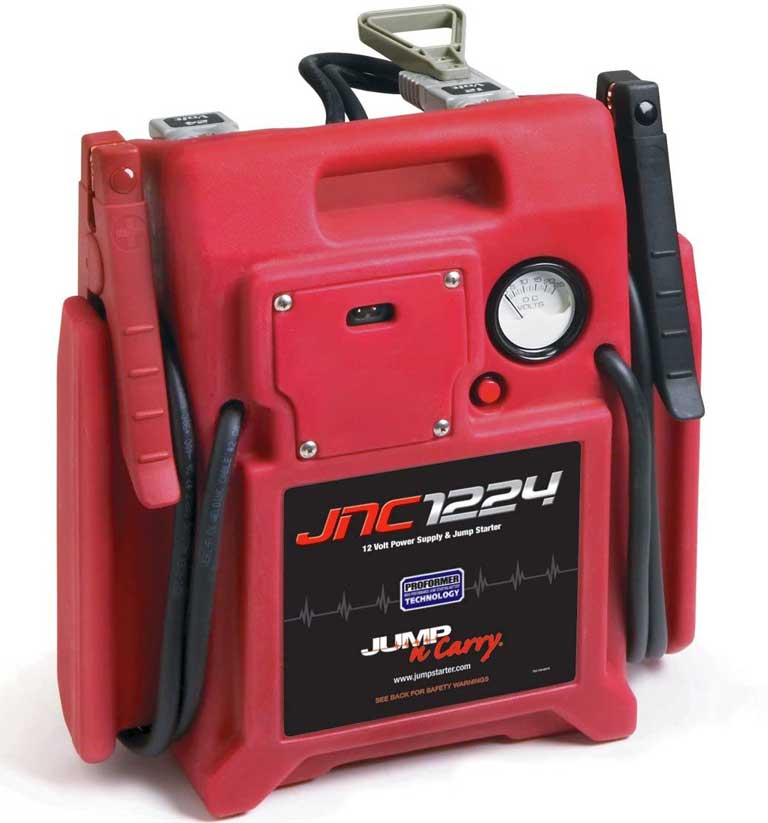 My Rating: 
Jump-N-Carry or JNC is one of the most famous brands in the United States, which is famous for its reasonable but also reliable products. Amongst the popular jump starter, the JNC1224 is one of the best and powerful models in the market.
In 12-volt power setting, this device would offer the peak current at the beginning up to 3400 amperes. Similarly, this number is 1700 in the setting of 24 volts. In addition, a user could make a safe switch between power modes, from 12 volts to 24 volts. By using an automated charger and fast connection, this device ensures to have a continuing period of charging to meet your requirements. Thus, this feature makes it a powerful and convenient device to use.
All of the elements in the JNC1224 are made to back up the transit of maximum power at the start, including the element of energy path. In addition, the thick cables with 46 inches in length help to transfer the power from the device to a car more efficiently. And the clamp support in penetrating the corrosion of battery.
The JNC1224 model use the latest technology in battery called Pro-former, which is made particularly for jump starting your vehicle. The advantages of this technology include high durability, longer duration of cranking and maximum energy at start.
Pros
Powerful and convenient device to use
Durable batteries
Automatic recharging
Safe to use
Cons
Very expensive, more than 300 USD
Heavy and bulky set
Non-returnable device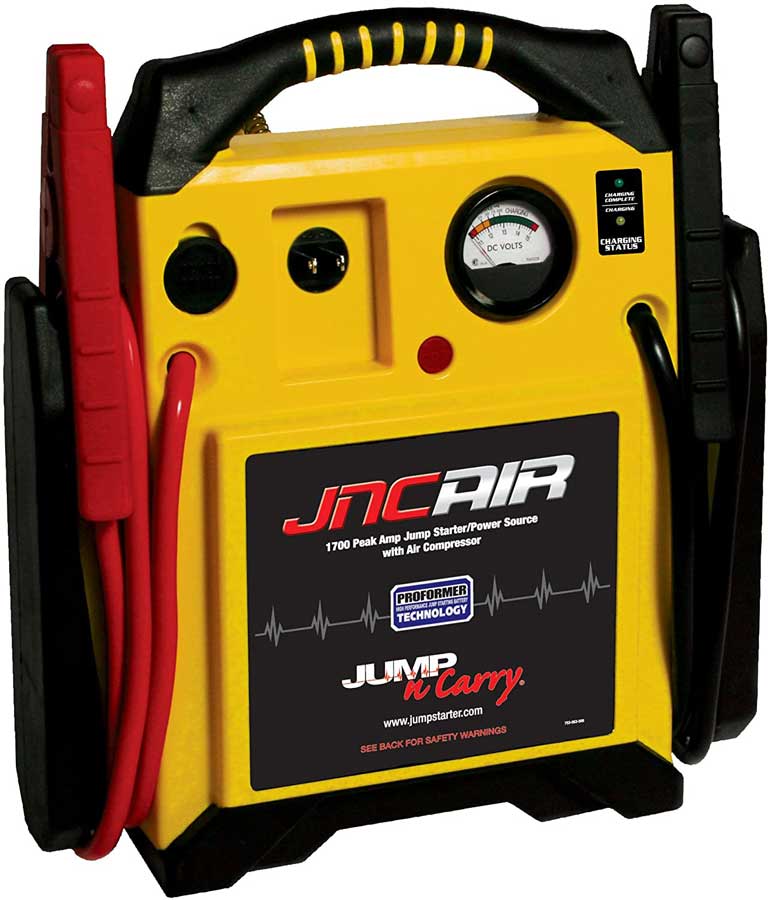 My Rating: 
All parts of the JNCAIR model are made to help a user maximize the amount of energy delivering to a disabled car. The pro-former technology in battery would increase the durability and density of power, which leads to outstanding power and duration of cranking.
The process of jump starting a car is more convenient and effective with various extra features. The cable with 68 inches in length makes it suitable with all sizes or shapes of the starting point. In addition, with an incorporated system of delivering air, which could fill the tire of a car for just 7 minutes, it also make you feel more convenient to use.
The JNCAIR also provides an automatic charger for AC current, thereby making a user use the jump starter simpler and more effective in perfect condition. This charger is made at the front of this device, so you just need to plug it in a socket and the process of charging will start immediately. In addition, the system of charging also offer an automatic and advantageous feature to end the operation your battery has been charged fully. This would permit the device to be plugged with any AC socket without having any negative effect for the battery.
Last but not least, this model offers a rubber boot so that you could put the device wherever you want with stability.
Pros
Protection to avoid overcharging
Powerful and durable elements
Working for a long time
Integrated with an air compressor and source of power
Provide automatic charger
Cons
Can not turn the power to a clamp off when the charger is on
Problems with the fitting and the link of the air hose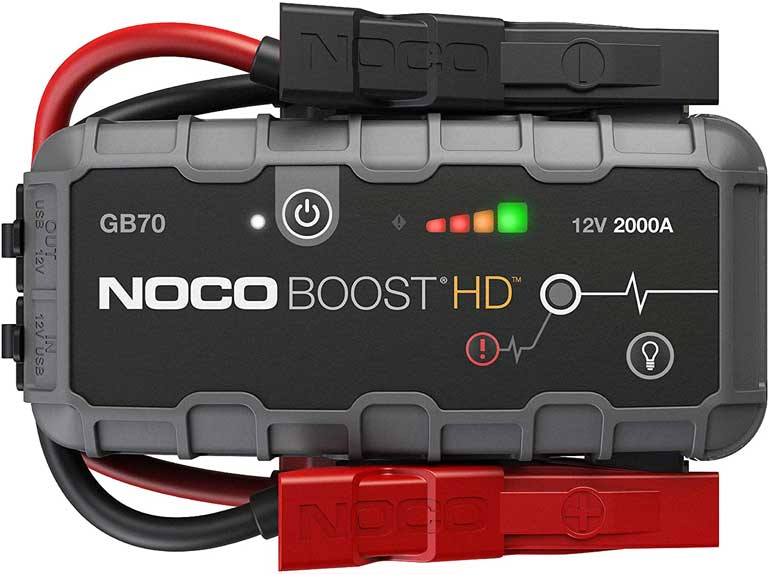 My Rating: 
The Genius Boost version of NOCO is a device that everyone should buy for a car. Thanks to a small size and lightweight form, it could be carried and stored easily in any situations.
It provides users with special features for security, including a spar proofing. This would help to prevent the clamps from sparking when they are connected for a long period. In addition, the baterry would also be protected against polarity by blocking the current from the device if the clamp is not linked suitably.
The lithium battery of Genius boost provides adequate amount of energy to jump start a car in 20 times with just one charge. In addition, it has the proper amount of energy in the proper so that the users could start their car easily as though they were changing to another battery. Even though the battery could last for 1 year, you need to charge it every 4 or 5 months just in case any problems would happen.
Apart from those features, it also integrates a flashlight with 7 modes of light and 100 lms in intensity, as well as the emergency and SOS light. Moreover, with the out and in ports for USB, you could use it to charge most types of device such as laptop, tablets and smart phones. The battery, which could be used for 4 phone chargers in full capacity and could be charged by any USB ports easily such as a USB connector of your laptop.
Pros
Compact and lightweight design
Safe and powerful to use
Durable and long-lasting battery
Provide a lot of special features
Flashlight to work in dark areas
My Rating: 
The PSJ-2212 jump starter of Schumacher provides the peak power up to 2200 amperes. In addition the current for cranking and cold cranking are 330 and 275 amperes respectively. It also integrated the heavy-duty clamp with a copper jaw that could not be replaced along with an automatic charger with the current of 3 amperes. If you do not connect the cable with proper port, this device will make a loud sound to warn you to change the metal clamp to another proper polarity.
The PSJ-2212 model would work as a source of power for any devices with a plug for the DC current of 12 volts. In addition, it provides the heavy cables with 50 inches in length and 4 gauges to maximize its strength and reach various points.
A vent case made by polypropylene and a rubber base with high quality make it more durable and safer to use compared to other types of jump starter. This type of jump starter would be perfect for a user to tailgate, go on picnic, recharge the source of power and other forms of application.
Pros
Provide heavy and long cables
Integrate special features
Offer automatic charger
Alarm sound for improper setup
Portable and flexible to use
Safe with case and rubber base
Cons
Do not provide extension cord
The display of charging process is not correct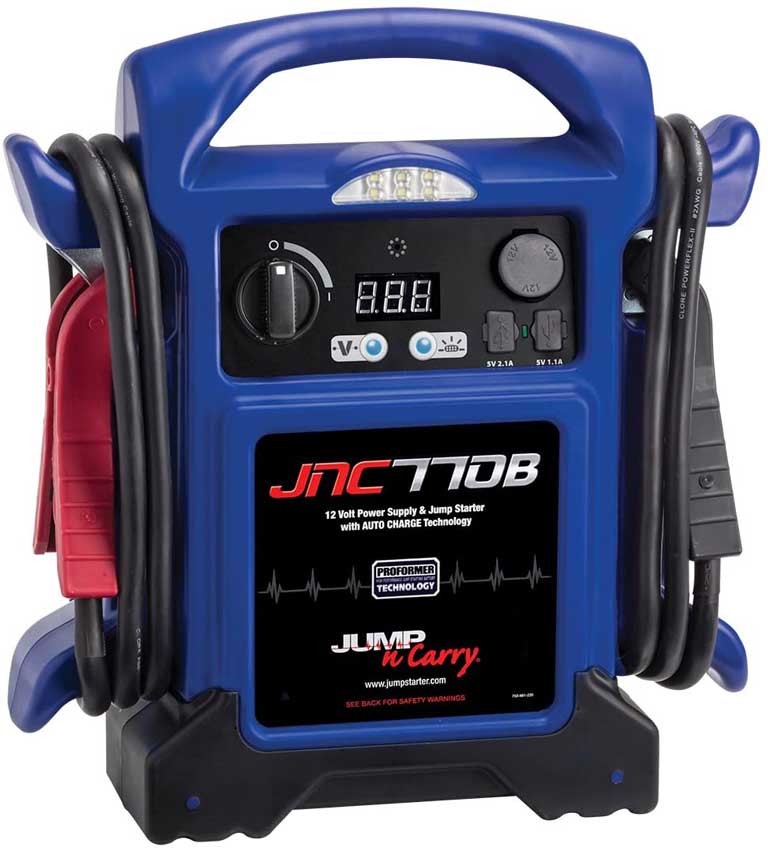 My Rating: 
The JNC770B of Jump-N-Carry is definitely a reliable source of power. The battery with Clore Proformer technology is particularly made to complete the application of jump starting and provide the many jumps in each jump, longer duration of cranking, special power of cranking as well as longer life of service.
Every part of the JNC770B jump starter is made to effectively and conveniently achieve the purpose of providing as much energy at the beginning as possible to an immobilized car. It includes the heavy – duty cable with 68 inches in length to reach the point of a car of most sizes and shapes; and the industrial clamp that help to prevent the battery of the car from corrosion and make a better electric connection (up to 1000 amperes).
With a protective case in nylon, the JNC770B would avoid the debris and water, thereby increasing the life of service. In addition, it also provides a charging cable with 2 prongs and an adapter with 12 volts.
You could know the current status of the battery and charging process by using the integrated digital screen. In addition, an incorporated and automatic system of charger with 3 amperes and cable help the process of recharging a car faster without annoyance.
This jump starter also provides 2 ports of USB with 12 – volt power so that you could charge your portable devices such as tablets, laptops or smartphones. Lastly, a durable rubber boot offers stability, thereby help you to put this jump starter wherever you want.
Pros
Durable and powerful to use
Provide automatic integrated charger
Digital screen
Strong rubber boot
Have protective case
My Rating: 
The Anker jump starter provides a useful case for carrying to help a users store and organize different stuffs accompanied with this set. In general, this device will consists of a set of major battery, the micro cable for USB, the attachment for jumper and a charger with 12 volts.
With the capacity of 10000 mAh, the major battery would have enough power to charge a tablet for about 5 times from 0 per cent to its full stage of energy. This pack provide a great and soft plastic case to help you keep the device.
In addition, it is also equipped with a small LED and SOS light, which could be helpful in some emergency situations.
This jump starter has 2 ports of USB with 2.1 amperes and 5 volts. This would help to deliver the power quickly so that the users could charge their electronic devices in a shorter time.
In addition to recharging your electric devices such as tablet and phone, this device could also be used to jump start a car with drained battery effectively. All you need is to plug the cable to the negative and positive ports of the battery. When the process is done, the green light will appear to signal and you would start the car again. If any problems happen, the beep sounds and red LED would be produced to warn you to disconnect the cable with the ports.
Pros
Cheap price, about 80 USD
Compact and portable design
Provide plastic case for storage
Used for many purposes
Offer ports for USB charger
Cons
Could not jump start bigger cars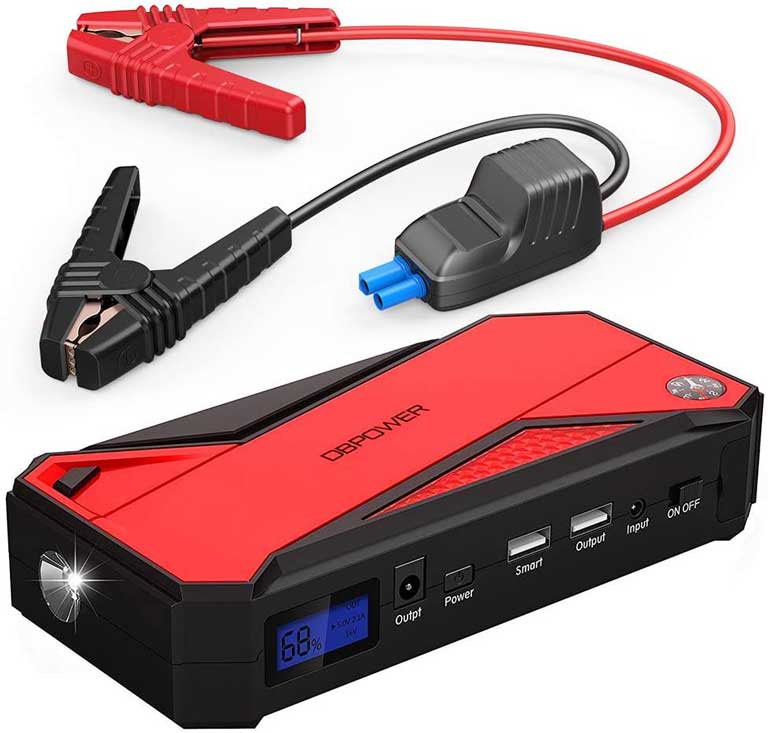 My Rating: 
With the highest current of 600 amperes, the heavy-duty cable and clamp, the 12-volt battery of DBPOWER 600A would jump start a car for nearly 30 times just with a single charge. In addition, this jump starter could be recharged just in 5 hours so that you could carry it around the road whenever you want.
In addition,the device also provides one smart port of USB with the capacity of 18000 mAh. This could help the users to charge their portable device such as kindle, laptop, tablet or smartphone with the fattest pace. You could also use the integrated adapters to charge your laptop. There are 3 modes of output voltage, including 12, 16 and 19 volts, which could be seen on the LCD display.
Apart from a LED flashlight with 3 different modes (SOS, strobe and high) for operating in dark space, the users could also use a red light in emergency cases to call for service or notify a car accident on the road.
When you go astray in a storm or heavy rain, the compass on the screen would help you find the right way home. In addition, with a LCD display, you could know exactly the amount of output power and remaining energy, which makes it easier to protect the device and take advantage of the power.
It's small enough to fit in your trunk for your glove box.
Pros
Compact design and convenient set
Smart and fast charger for the battery
Lightweight and small size
Considerable price tag
Powerful emergency and LED light
LCD screen
Cons
Short cable of the battery
Do not last for a long time
Types of Jump Starter
In general, jump starter is divided into 4 main types:
Jump Starter with an air compressor
Jump starter with multi-function
Portable jump starter
Jump starter with small size
Some types of jump start provide additional features which are unrelated to make a battery start. A couple of models consist of functions such as air compressor or phone charger to provide extra purposes when a user needs it.
The jump starter with an air compressor has various applications for your car. It is especially useful when you need to fill the tires up or inflate other stuffs such as a toy, a raft and pool accessory.
The best model with the air compressor would also be used to supply stress for a power device. However, the battery of the air compressor makes it much bulkier and heavier than a portable jump starter.
Apart from the ability to jump start a car, this type of model also provide extra purposes for a user. For example, a couple of devices would even make a combination of LED light, device charger, battery charger and, of course, a jump starter, all features in just one model.
The fact that it has more than one feature would be useful especially when you want to carry as little weight as possible, when you are going on picnic or traveling, for example.
The portable model is definitely one of the most convenient kinds of jump starters in the market. In addition, since the latest technology is developed, it has become more popular in terms of variety. Compared to a bulky device, the portable jump starter is produced with light weight and small form so that a user could use and carry it around much more simply.
Thanks to its convenience, a portable jump starter would perform a lot of purposes. For example, it could be used in an industrial factory, in a car repair garage or even at home.
In general, the portable jump starter is available in the market with a wide range of designs, sizes, feature and price tags. You could read our reviews on the jump starter to look for the best portable model for your personal purposes.
This form of jump starter is just another type of portable model, which is produced to serve the same purposes as the bigger version, with the additional feature of an extremely small size. In fact, this tiny form of jump starter is also convenient in several emergency cases to jump start a wide range of vehicles such as truck, camper van, motor, car and so on. The advantages of a small device is the light weight and compact form so that it could be carried or stored in any means of transport easily. In addition, it could also offer some additional things such as an USB port, which would help you to recharge any portable pieces of equipment (for example, GPS unit, camera, tablet and phone). The best small-sized jump starter is a model which is small enough to be stored in confined areas, but also provides adequate amount of power to achieve demanding and heavy jobs. In this buying guide, we provide some useful reviews on jump starter with small size so that you could look for the most suitable model.
Why you should use Jump Starter?
In general, the jump starter is a personal tool used to start a car in urgent cases when its battery runs out of energy and you do not have any substitutes.
In the past, a jump starter used to be an onerous device in many aspects. However, latest designs have provided a lot of new compact models of jump starter. A typical set basically involves jumper cable and battery in the box, thereby making it almost as bulky as the battery of a car. This uncomplicated issue has made many users not to choose this unbelievably helpful device.
Whenever your car is facing a problem with the battery and there are just a few choices left for you, which is to wait long hours for support or to walk home, the jump starter is definitely a useful device. All you need is to turn on the unit, then hook it up safeky and start your car. It could be much simpler if you use a compact jump starter.In general, it could provide most of the similar features like a basic jump starter, but with a more flexible form.
The best jump starter devices with portable form often provide users with distinct port, which could permit them to charge a couple of electronic equipment. It is particularly helpful when you need to make phone call if you are stuck.
Tips and Tricks before purchasing Jump Starter
Looking for the most suitable jump starter model requires the similar method when you find any other devices in a store. This type of equipment offers users a better way to save your vehicles in comparison to another battery for substitution. All you need is to hook the clamp to the terminal of the battery and then turn on the device.
In general, different models of jump starter would offer distinctive features, including integrated technology, style, size or battery. When you want to buy a jump start, the most essential factor to consider is, in fact, the amount of energy it would provide. Accessories and extra features usually make a minor difference in the comparisons between a wide range of jump starter.
Moreover, noticing the price tag would be useful although sometimes it does not reflect the quality of a device correctly. Inexpensive devices would not have the required reliability or quality when we need it them the most.
Similarly, a costly piece of equipment would provide some unnecessary features that you do not need to use or even know how to turn on. Thus, high price of buying would lead to wasting your money. Additional features might seem attractive, but the more elements a jump starter has, the more risks of breaking down it would have during usage.
You will do not need a device, for instance, that provide an additional air compressor if you do not have any kits of tire or things needed to be filled. Therefore, buying an average jump starter with basic features, including on,off button and charging meter would be the best choice for you. It is also advantageous to choose a durable and heavy unit since bigger and bulkier devices tend to offer greater amount of voltage so that the battery would go well.
Jump Starters vs. Battery Chargers
In general, there are a couple of striking variations between a jump starter and a battery charger. Unlike a battery charger, you could not use a jump starter to recharge the battery of your car.
Basically, the jump starter is often used to substitute for the battery of a car in case it would run out of energy on the street. A jump starter needs to be recharged after using as its main source of energy comes from the internal battery. Sometimes you also need to do this if it is not used for a long time.
The main purpose of this device is to jump start a car. However, you could also used it as a portable source of power to supply the energy for small electronic appliance or device.
For the automotive use, the battery charger would change an AC current in the range of 110 and 120 volts to a 12 volts DC one to charge the drained battery of a car. It need plugging into an electric receptacle in your house to perform its purpose. These days, many of the battery chargers are produced just to charge the normal types of battery with 12 volts. The Deltran version of Battery Tender is one of the most popular 12-volt charger with 1.25 amp current, which would switch from the full charging to floating one automatically. In addition, it is also made to keep an adequate amount of voltage so that the battery would not be damaged. The BC15BD model of Black & Decker, which would work in 3 phases, integrates an LCD display that shows the status of charging process.
Conclusion
You have been provided with a large amount of information on jump starters. Although we offer recommendation and information, the final decision is totally dependent on you since there are a wide variety of famous brands in this market. Thus, remember to compare your most essential need with the possible choices for you.
In fact, you would need the most powerful jump starts for your car, or you would have a limited amount of stuff carry. So, do not think twice to buy a portable jump starter if you never want to leave your car behind and move away.
Even when you do not need use it properly, you would also help somebody else if they are facing several problems with their cars.